Tiger Woods has a long connection to Las Vegas, all the way back to high school

By Jack Sheehan,
Contributor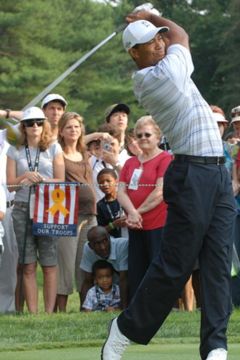 View large image | More photos
For a short time, it looked like UNLV would be a sure bet for Tiger Woods. (Courtesy of americasupportsyou.com)
A lot of celebrities and athletes enjoy the freedom and anonymity that Las Vegas supplies. Tiger Woods is no exception. Fifteen years ago, a teenage Woods nearly selected UNLV as his college of choice over Stanford.
Ask nearly any major celebrity to discuss his favorite getaway, and Las Vegas will make the short list. We embrace stars here, but we also give them room to breathe. Sinatra loved it here, Elvis probably spent more time here than anywhere but Graceland, and Michael Jordan and Charles Barkley sightings are so common around town that people barely take the time to stare.
Thus, it should come as no surprise that "The Man Who Is Golf" also feels right at home in Las Vegas.
Tiger Woods comes here as often as seven or eight times a year, sometimes for work, other times for play, but he's always assured he'll have a good time and be afforded the privacy he deserves. But few realize just how closely he is connected to our community.
Las Vegas almost had him as a permanent resident 15 years ago, when he narrowed his selection of college golf programs from the more than 100 schools on bended knee down to two, Stanford and UNLV. And as much as we may love our Rebels in Vegas, when it comes to the bigger picture of life, what parent given the choice between full rides to those two schools wouldn't push his child to become a Cardinal? Earl and Kultida Woods knew that a Stanford education radiated credibility in the corporate world that awaited Tiger when he turned pro, and that translated to big endorsement dollars. But Woods' final choice was by no means a slam dunk, as insiders will tell you.
Golf coaches far and wide had been hearing about the young phenom since Tiger was grip-high to a five-iron. He had won several World Pee-Wee championships and an unprecedented three straight U.S. Junior Amateurs by the time colleges had progressed from panting to drooling. So, it was obvious that UNLV coach Dwaine Knight, who was rapidly putting together a national-caliber program, would be on Tiger's back like black stripes. Knight knew if he could somehow lure Woods to Las Vegas, his already strong team would have a chance to dominate college golf.
"I sent him a letter and a questionnaire when he was about 13," Knight recalled recently. "I'd seen him at Junior World and heard many of the stories about him. But then when he was a junior in high school, we sensed we really had a good shot at him. Chris Riley, who was a good friend of Tiger's and who had won everything in Southern Cal, came here, and we were about to get another of his contemporaries, Gilberto Morales. These guys were the best junior players in the group ahead of Tiger, and I think that got his attention. Plus, we'd just had an individual NCAA champion in 1991 in Warren Schutte."
At the time Knight started his big push for Woods in 1992-93, the Rebel golfers had in a brief time risen from basically a club sport to a nationally ranked Top-10 college program. Knight was persistent in explaining to Woods all the reasons why UNLV was a viable choice for him: there was the $2.6 million Lied Foundation endowment that guaranteed first-class travel and accommodations for the team; the Rebels had the best playing schedule in the country; and Tiger could play top-ranked Shadow Creek Golf Course, the Desert Inn Golf Club and the other fine private golf courses in Las Vegas on a daily basis. In addition, Knight argued, UNLV had first-rate training facilities and a world-class physical therapist and sports medicine guru in Dr. Keith Kleven, who worked with several PGA Tour players and superstars in nearly every sport.
Early on, Knight introduced Woods to Dan Napier, a dapper and personable casino executive at the MGM Grand, and the two became fast friends.
"I remember that Tiger's eyes opened wide when he saw everything we had in Las Vegas," Napier says. "He instantly liked the town."
Napier found Woods to be reserved, almost shy, but he also could see that the young man had a lot of self-esteem.
"And he was extremely intelligent," Napier says. "The first time I talked to him, it was clear he had a life plan and knew exactly what he wanted to do. This was a kid in total control."
Napier recalls Woods once saying, "Dan, I really like those suits you wear."
And Napier said, "Kid, some day you'll have a closet as big as my house. You're going to be bigger than (Michael Jordan)."
Woods just laughed and said, "Ah, no way."
We inquired how Napier had envisioned that level of success when Woods was just 17 years old.
"I could see a couple things," he says. "First, there had never been a dynamic golfer of color who would signal to minorities that golf was really a cool game. Secondly, Tiger was the first truly great athlete that was drawn to golf at a young age. I remember watching him one time, and he had a shot over a fairway bunker to an elevated green. Rather than run around the bunker, he jumped straight up in the air about three feet to see the pin. I thought, 'Oh my Lord.'"
Knight had seen the same attributes up close many times. He knew that Earl Woods, with his Green Beret toughness, and Tida Woods, with her Eastern spirituality and sense of discipline, had instilled in their son a perfect blend of ferocity and focus and the ability to never doubt himself under pressure. The kid had absolutely no quit in him. And he dreamed not just of becoming a great player but of surpassing the burly man from Ohio whose records he had pasted on his bedroom wall.
In particular, Dwaine Knight remembers Woods' ability to raise his game at the critical moment.
"In the national juniors in Portland in '93, when he was going for three straight, Ryan Armour had Tiger two down with two tough holes remaining," Knight recalls. "Wouldn't you know Tiger birdied the final two holes and the sudden-death hole to win the match. Every time it looked like he was dead, he would pull off a great shot."
That story must sound eerily familiar to Trip Kuehne and Buddy Marucci and Steve Scott, who watched Woods hit heroic shots at crucial moments in U.S. Am finals and, much later, Las Vegas' own Bob May, who lost an extra-hole battle to Tiger in the 2000 PGA Championship. All four of those players, in major championships, had delivered enough body punches to knock out a great player, but Tiger would come off the mat to beat them all.
This was a kid who would not be denied his glory, and Knight was so close he could taste it.
Stanford or UNLV? Tiger Woods makes the call
Nov. 10, 1993: It is a date the UNLV golf coach will never forget. Knight's stomach churned all day, because he knew that Woods would be calling him that evening with his decision.
"That day and the preceding day, I'd received dozens of calls from newspapers and magazine reporters telling me they'd heard Tiger was coming to UNLV," Dwaine says. "And I really did have a gut feeling that he would commit to us. He'd loved his official visit here, where we took him out to Shadow Creek, and we also held an academic reception at then-UNLV President Dr. Robert Maxson's house. Tiger had asked some great questions of the professors there. We knew he wanted to get an accounting degree, and Stanford didn't offer that degree at an undergraduate level, so we felt that was a point for us. And I'd spent a full day with Tiger at his house in California and going to a high school football game the month before. It was chilly at the game, and he talked about how he hated cold weather. And Las Vegas is a heck of a lot warmer than the Bay Area. So, I had good reason to be optimistic."
And then the call came. Coach Knight recalls how it went, almost verbatim:
Tiger: Hey, Coach, what's up?
Knight: Hey, Tiger, well, I'm pretty nervous sitting here right now. I'm just hoping you're going to become a Rebel.
Tiger: Well, Coach, it was a really tough call, but I decided I'm going to Stanford. (Knight feels like he's been punched in the stomach. He has to pause a moment to get his breath.)
Knight: Ah, man, that's tough.
Tiger: I want you to know you guys have an awesome program, and you're going to win a national championship soon. (It would happen five years later, in 1998.) I just hope we'll always remain friends.
Knight: Wow, that's a tough one. Is there anything I can do to make you change your mind?
Tiger: No, Stanford is where I want to go. But look at it this way, Coach. Of all the schools I had a chance to go to, you guys were in the final two. That's a real statement for where you've come as a program.
Knight: Yeah, but it's still second, Tiger. That's tough. But all the best to you. I assure you we'll always be friends.
And with that, Dwaine Knight learned that he wouldn't have the privilege of coaching the most talented golfer in history. Even 15 years later, there's pain in his voice as he recalls the moment.
Tiger's lingering Vegas connections
Post script: Tiger Woods holds his Tiger Jam rock concert in Las Vegas each year to benefit his charitable foundation. And he still uses Keith Kleven as his personal trainer and fitness consultant.
"It's an honor just be to around Tiger and witness the greatness he brings to his sport," Kleven says. "He's got the most complete package of skills of anyone I've worked with."
More photos
«
»
October 29, 2008
An author, professional keynote speaker, celebrity host, and humorist, Jack Sheehan is a 30-year Vegas insider. He is a New York Times best-selling author and screenwriter, with more than 11 books in print, including two with professional golfer Peter Jacobsen, Buried Lies and Embedded Balls.