Dreaming up the ultimate golf vacation in Scotland and Ireland

By
Brandon Tucker
,
Managing Editor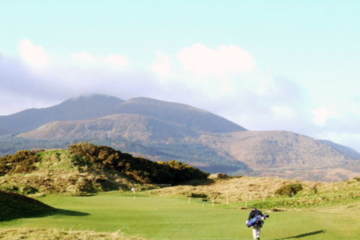 View large image | More photos
Three old high school buddies and Royal County Down make for a dream golf vacation. (Brandon Tucker/GolfPublisher.com)
The vision is coming to me…
A few years from now, my wife tells me she needs a "girls-only" vacation. I grant it to her, because I want two weeks of my own with the fellas. After hours of negotiating, she concedes.
I'm not married yet, but I assume these kinds of arguments are easy to win.
That gives me two weeks to do whatever I choose, void of family or job commitments. The possibilities come pouring in: a tequila beach binge in Mexico…backpacking through Eastern Europe…Enjoying endless summer days on a bike ride through the Alaskan frontier…
No, I'd go for the golf links of the British Isles.
The dream golf trip needs a dream foursome, and for that I'd look to my high school senior year golf team. Two of these guys ended up playing college golf and one of them went pro. One I haven't kept in touch with - someone told me he went to jail after I graduated for stealing a car. I don't know if I believe that. Maybe I'll "google" him and find out.
We'd all pack up the clubs and embark on two weeks of match play, four balls, best balls and scrambles. 18 and 36-hole days of golf would be coupled with long nights of drinking in pubs, wondering where our adolescence went - when the most complicated thing in our lives was hiding the semester report card from our parents.
My dream itinerary for Scotland and Ireland
Being a captain of the golf team back then, I'd surely be in charge of the itinerary. Here's how I'd book it.
I wouldn't plan the trip during peak season, but either in May or early October, when we can still be a little flexible with our itinerary. Late June through September sees tee sheets and hotels plenty full at all the best places.
Narrowing down where to play is the tough part. I've been on the fence about whether to begin or end our tour in St. Andrews. I do know it's in there somewhere. Where else can you find so many world class courses in a town that's so fun to be in?
We'll throw it in at the beginning.
We'll be there three days, maybe four, and stay in the Young Tom Morris suite at the Rusacks Hotel. It can sleep four and features a giant balcony overlooking the 18th green, close enough to heckle any victim of the "Valley of Sin." We could never afford this room on our own probably, but among the four of us it's pretty reasonable.
We'll stay four days in St. Andrews, which will allow us plenty of chances to win the Old Course lottery. There are plenty of lesser-known courses nearby that are worthy consolations. We'll mix in the New Course, the Castle Course, and maybe a nearby open qualifier. I've heard great things about Leven Links.
While in St. Andrews, I foresee a late-night, drunken wager being made among our foursome that lands us at nearby Carnoustie the next day, seeing if any of us can break 90 on this most treacherous track - or par the infamous 18th.
Anyone who can't beat a seven wears a beret next round.
After St. Andrews, we'll head up to the Highlands, where we hit Brora and Royal Dornoch twice. Then I want to ask some locals where some bon-a-fide hidden gems are, maybe Tain or Kinguissie. Scotland is expensive these days for Americans and we can't pay $150-$250 each round - at least not on my humble wages as the noble village sheriff (I'm dreaming, remember?).
After several days in the Highlands, we'll puddle-jump from Inverness or Glasgow to Dublin. Golfers often debate whether to do Scotland or Ireland. On my trip, we do both.
We'll take the next day off the course and in the bars, starting off with one of those Dublin pub tours. Then we'll hit up Octagon to finish the night. One of my buddies raves about this place, owned by U2's Bono. He says it the coolest bar he's ever seen.
Then it's back to golf. Choosing which region to play in Ireland, while omitting others, is like choosing between your two grandma's feasts at Thanksgiving. You're guaranteed a knock-out meal whatever you choose, but the stuffing smells even sweeter just down the road.
I would opt for Northern Ireland. It's selling point is the wonderfully scenic A2 Coastal Route and Royal County Down, more specifically its 9th hole - probably the most spectacular hole I've ever played.
The icing on the cake is nearby Ardglass Golf Club, one of my favorite "undiscovered" links that's not on many tour operators radars yet and is still a good bargain, playing above black, jagged rocks on the coast. From there, we'll hit Portrush, which not only is home to the famous Dunluce links, but also a jumping nightlife amidst a town littered with eastern European immigrants who know how to party. Nearby Portstewart and Castlerock are also ripe for the picking if we've got sunlight.
We'll need to head back south eventually, because flying back home from Shannon is cheaper than from Belfast. In that case, we have two more days to hit Lahinch, where we can all take a stab at a hole-in-one on the famous "Dell" par-3. Then we'd try and sneak in one or two more rounds at either Doonbeg or Ballybunion before calling it a trip.
On our final day, I'll get an email from my wife saying she's off to see her parents for another week and I'm free to do whatever. My other two buddies say they've been stowing up "sick days" at work and have the frequent flier miles to push the flight back without penalty - and the other says the sooner we go home, the sooner he's due back in the slammer.
So we play on.
I said this was my dream tour, don't wake me up yet.
More photos
«
»
October 29, 2007
Brandon Tucker is the Managing Editor for Golf Advisor. To date, his golf travels have taken him to over two dozen countries and over 500 golf courses worldwide. While he's played some of the most prestigious courses in the world, Tucker's favorite way to play the game is on a great muni in under three hours. Follow Brandon on Twitter at @BrandonTucker and on Instagram at BrandonTuckerGC.