Mental side of golf means to stop taunting opponents, get smaller ball markers

By
Clive Agran
,
Contributor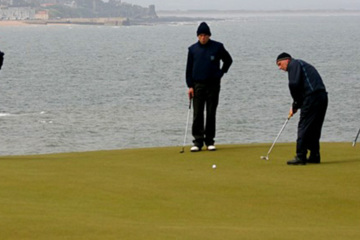 View large image
Clive Agran promises to never blame the greens or an imagined pitch mark if he misses a putt of less than three feet. (Brandon Tucker/TravelGolf)
Although January is a critical month for anti-freeze salesmen, printers of posters that declare "Massive Sale - Everything Must Go," and those few remaining specialist firms who clean and store Santa Claus' costumes, it is not the biggest month in the golfing calendar.
Frankly, so little is happening right now on the fairways that you can almost hear the dust settling on those big-headed drivers and the yawns emanating from the assistant pros as they wait impatiently in case that very occasional winter visitor, the Rarely Spotted Green Fee, should suddenly show up. Although counting the tee pegs as part of the annual stocktaking exercise does help while away a few hours, it's no substitute for the thrill of human contact.
But for those of us determined competitors hell-bent on making it all the way to the top of the game or at least lowering our handicaps to somewhere near respectability, this is a critical period. Now is the time when we stop looking back with regret and make excuses for what we failed to achieve last year but instead look forward to what we genuinely believe will be a bright new future. Sports psychologists recognize the overwhelming importance of a positive mental attitude and the enormous value of setting goals.
Although listing them in your mind is the first step, it helps the process considerably if you actually write them down, preferably on a clean sheet of paper and in ink. Next, you must tell them to anyone who is prepared to listen as this will both reinforce them in your own mind as well as create a climate of expectation around you that will further increase the level of expectation, which in turn is likely to lead to greater success. If this all sounds like gobbledygook to you, put "I must develop a better understanding of the fundamentals of sports psychology," at the top of your list.
Partly to help you draw up your own but, much more importantly, to assist me by effectively broadcasting my goals to the vast readership of this column, here is:
Clive Agran's list of "Publicly Stated Targets, Ambitions and Resolutions for the New Year"
• Not to shout "Get in the hole!" as my opponent's ball heads inexorably towards a huge bunker.
• Never to exclaim "Well out" when that same opponent subsequently thins one out of that same bunker and into the woods on the other side of the green.
• Never to use an exceptionally large coin to mark my ball on the green in the hope that it will annoy my opponent and put him off his putting stroke.
• Not to regard the scoring of one Stableford point on a hole as something of an achievement.
• Not to keep looking at my watch when my opponent is searching for his ball.
• To take my ball-marker and tee pegs out of my back pocket before sitting down in the bar after the round.
• Not to sit on the terrace in front of the clubhouse in the summer and giggle at the misfortune of others as they struggle up the 18th.
• Never to blame the greens or an imagined pitch mark if I miss a putt of less than three feet.
• Not to lie down on the tee as if asleep when waiting behind a particularly slow fourball.
• To recognize that in this day and age, women have almost as much right to be on a golf course as men.
• Whilst not fighting shy of controversy, not to be quite so gratuitously offensive to women.
• Not to stroll onto the first tee, take a practice swing and then expect to split the fairway but to follow the advice of the experts and warm up properly by taking at least two practice swings.
• At my age (58), to accept that a ball knocked over an out of bounds' fence - particularly if that fence is topped with barbed-wire - is lost and to make no attempt to retrieve it no matter how new it was.
• Not to three-putt under any circumstances.
• To be exceedingly grateful to everyone who makes it through to the end of my column.
January 15, 2007
Although in his 60s, with a handicap of 15 and lifetime earnings comfortably below $100, Clive Agran nevertheless still believes he can win a major. Arguably England's most gifted golf writer, when not dreaming of glory he's scouring the globe simultaneously searching for lost balls and great golf courses. Follow Clive on Twitter at @cliveagran.