Red Rock Country Club lights up Las Vegas golf with membership promotion

By
Tom Spousta
,
Contributor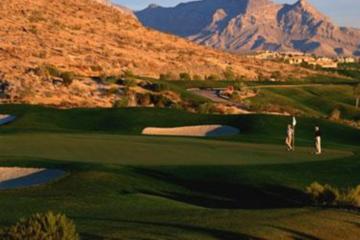 View large image
Red Rock Country Club features two Arnold Palmer layouts, the private Mountain Course and public Arroyo Course. (Courtesy of redrockcountryclub.com)
If this is a sign of the times, it's a million-megawatt neon billboard that screams opportunity for Las Vegas golfers - and perhaps other golf destinations around the U.S.
Red Rock Country Club recently offered a deal in which you could hit the jackpot without even stepping into the resort's casino. The property's advertisements in the Las Vegas Review-Journal make little pretense about how it's willing to compete for members in a tough economy.
Imagine reading this while making your golf resolutions for 2009:
"New Year - New Club! For a limited time, Red Rock Country Club will transfer your current country club privileges to Red Rock ... Experience the luxurious amenities and breathtaking natural setting" of Arnold Palmer's two layouts, the private Mountain Course and public Arroyo Course.
Raiding other clubs for members sounds like a radical step, even for a town where anything goes. But golfers can only benefit with such a free-market move, and this time, what happens in Vegas might not necessarily stay in Vegas.
You can bet clubs elsewhere might soon follow Red Rock's lead (if they already haven't). Okay, let's be realistic, Cypress Point or Pine Valley probably aren't going to call and beg you to transfer from your local golf course. But extraordinary times call for extraordinary measures.
And LasVegasGolf.com lists Red Rock (located in the upscale Summerlin section north of the strip) as one of the most exclusive and pristine Las Vegas-area golf courses, so it could represent a sweet upgrade in a city that thrives on enticing you with the lure of a luxurious experience.
Obviously, "for a limited time," is the key phrase. Red Rock's promotion also applied only to current Las Vegas golf club members.
No matter where you live or golf, it's worth it to be on the lookout for Las Vegas-style golf deals like this one.
January 7, 2009
Veteran golf writer Tom Spousta keeps one eye on the PGA Tour and another watching golf vacation hotspots and letting travelers in on the best place to vacation. He has covered golf and other sports for USA Today and The New York Times. Tom lives on a Donald Ross-designed golf course in Sarasota, Fla.