After Masters week, a call for America's private golf clubs to let us all tee it up

By
Brandon Tucker
,
Managing Editor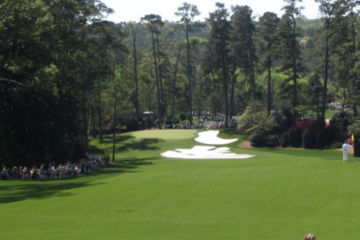 View large image | More photos
Patrons of the Masters can adore Augusta National all they wish, but their chances of ever playing here are slim. (Courtesy of sghgolf.com)
For me, watching The Masters at Augusta National on TV each year is bittersweet.
It's tremendous drama, the golf course looks fantastic, and it's always a pleasure listening to living legends like Gary Player and Jack Nicklaus tell old stories of The Masters with a twinkle in their eye.
But more than any other major, The Masters bothers me too. And it's mostly because I know that unless I come across some extremely good fortune, the chances of me playing Augusta National are slim to none.
Dream as much as we wish, it means we'll never navigate Amen Corner or go for the green over water on the 15th.
My greatest wish for golf in the United States is that one day no golf course anywhere in the country will be entirely private. There will be members clubs, but they will offer blocks of public tee times at least a few days each week for the good of the game - Augusta National included.
America's model for entirely private clubs isn't shared by other golfing nations. Prestigious clubs worldwide, including Valderrama Golf Club in Spain, Royal Melbourne Golf Club in Australia and every single club on the British Open rotation, allows regular visitor play - including the Old Course at St. Andrews. Muirfield is probably the most difficult to get on for the tourist, but you can even play there with enough advance notice or the right packager's help.
Most of these courses (in fact, just about every public access course that hosts a professional event) aren't cheap. But at least they offer a once-in-a-lifetime chance for someone to play the tournament course they grew up watching on TV.
I'm not calling for some Martha Burke lawsuit of private clubs; nor for them to be turned into carnival atmospheres full of jean shorts, golf cart donuts and Pabst Blue Ribbon.
Rather, I am hoping - predicting, actually - that attitudes gradually change, and that these clubs eventually become more accessible to all of us, heeding Harvey Penick's timeless quote: "If you play golf, you are my friend."
That said, there are a few shifts in attitude that need to happen in order to achieve my vision of an America where every club offers at least limited public play:
Shun premium country clubs dues
My generation, namely those of us who have entered the work force in the last 10 years or so, must continue to shun the idea of paying premium dues at country clubs. Loyalty to employers isn't what it once was, and younger workers change jobs and cities at the drop of a hat, making it pointless to pay a club's initiation fee when you don't think you'll even live within 500 miles of it in 10 years.
We're also spending more money on travel. When many baby boomers pass on, a lot of clubs will have some seriously empty rosters. It's already happening.
Stop listing private golf courses in national rankings
Golf magazines should stop listing private courses in national rankings. A lot of these courses earn prestige and exclusivity based on these rankings. If these panels released a Top 100 list with only courses that accepted daily green fees, fewer golfers would pay $200,000 to join the private clubs.
Bring more PGA Tour events to public-access courses
The PGA Tour should bring more tournaments to public-access courses. I can't commend the USGA enough for their efforts to bring our nation's open to more and more public venues. Four of the U.S. Opens through 2015 are on public golf courses, including the Black course at Bethpage State Park in New York.
It's time for cheaper golf courses
Golf courses must be built cheaper. It looks like the days of lavish, $20 million course projects are slowing in favor of more environmentally sensitive, cheaper products.
It's your club, members - show it off!
Perhaps most important, members of clubs should make the choice to show their club off to the public, rather than keep it to themselves. The Old Course in St. Andrews is one of the most welcoming golf courses I've ever been to, quite simply because they're so proud of it (and don't mind making a pretty penny off it, either).
In closing, here are the top five private courses in America I'm just itching to pay top dollar to play once they open their fairways to the rest of us:
• Cypress Point, California
• Augusta National, Georgia
• Riviera C.C., California,
• Pine Valley G.C., New Jersey,
• Crystal Downs C.C., Michigan.
More photos
«
»
April 14, 2009
Brandon Tucker is the Managing Editor for Golf Advisor. To date, his golf travels have taken him to over two dozen countries and over 500 golf courses worldwide. While he's played some of the most prestigious courses in the world, Tucker's favorite way to play the game is on a great muni in under three hours. Follow Brandon on Twitter at @BrandonTucker and on Instagram at BrandonTuckerGC.