Bottoms up for the Friday night Pinehurst village pub crawl

By
Brandon Tucker
,
Managing Editor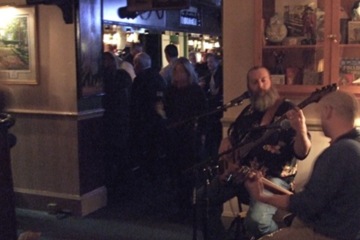 View large image | More photos
Live music makes for a festive atmosphere on Friday nights at the Pinecrest Inn in the Pinehurst Village. (Brandon Tucker/TravelGolf)
PINEHURST, N.C. - 'Twas the night before our 9:30 a.m. Saturday tee time on famed Pinehurst No. 2, considered one of golf's deftest challenges of the short game.
So my playing partner and I did what any respecting golfer would do: We went out boozing.
Pinehurst's village is made up of just a few small streets of shops and pubs, designed by the same firm that planned Central Park at the end of the 19th century. Back then, it was planned with the intention of giving guests, many of whom were tuberculosis patients, some fresh air as they strolled throughout the village.
A century later, it feels purposefully built for pub crawls, with a handful of watering holes mixed in with some golf shops and inns.
Before we get to the village pubs worth hitting in a night, we should mention the Carolina Hotel's Ryder Cup Lounge. It was recently tripled in size and features eight beers on tap (changing seasonally) and more than 300 wines. I opted for the Carolina Pale Ale and a B.L.T. one night, seafood tempura the next. The menu serves up pub grub, soup, sandwiches and a handful of proper entrees. Or just munch on some popcorn with your beer.
The Ryder Cup Lounge offers just about all you can ask for, but don't be shy, head into the village for at least one night, and check out the local establishments. You'll discover a variety of atmospheres, though all heavily weighted on golf and an across-the-pond vibe.
One of the other better pub menus is at the Darling House, the first pub you'll come to if you head into the village from the Carolina, just look for the red dragon. That's where we ate Friday night, and it's a small joint that was standing room only and had a 30-minute wait for dinner. We opted for Guinness here, which helped warm us up after 36 holes in sub-40-degree temperatures that day. Shortly after 8 p.m., live music broke out, which became a theme: Friday night is live music night in Pinehurst.
Next we headed to the Pinecrest Inn, known for being a favorite place for Arnold Palmer to stay when he's here and was originally owned by Donald Ross. We came here with the intention of chipping into the fireplace of Mr. B's Lounge, recommended by about 400 people upon telling them I was headed to Pinehurst.
But none of them ever mentioned the fireplace. So we passed the time with a roaring fire and listening to live tunes at the bar sipping some bottled beer (no kegs in Mr. B's but plenty of TVs and people to chat it up with).
The place in the village to finish off the night is Dugan's Pub, the largest of the pubs, and it features both an upstairs bar, dining room and downstairs bar, which often has live music and karaoke.
To get downstairs we paid a $2 cover (the other bands just had tip jars and CDs for sale). It's by far the liveliest joint for locals. It's dark and loud, and it'll be last call before you know it - and thus realizing you're teeing off in just a matter of hours.
Keep Advil by the bed, and swing slow in the morning. My first tee ball Saturday morning landed about 40 yards right of the fairway in pine straw, but as any mid-handicapper should admit, I'll take the chip-out penalty shot for a fun evening out anytime.
Pinehurst Resort's 19th holes
With eight golf courses, Pinehurst offers as many varieties of 19th holes.
At the main clubhouse, home to Pinehurst No. 1 through Pinehurst No. 5, you can grab a drink at the Donald Ross Grill or adjacent, smaller 91st hole. It's small given how many golfers play here, but there are spots on the patio to relax and watch some golf - or lawn bowling or croquet if you've always been curious. Please, no heckling the croquet players.
A better option is to head to the Holly Inn's Tavern (take a quick shuttle there from the main clubhouse). It has just a couple tables and a small bar inside and is where many players stay and drink during the U.S. Open. In warmer months, the action spills out onto the patio, where golfers take in a late-afternoon cigar.
Stop here for a drink before dining at the 1895 Grille, home to what I can confidently proclaim as the world's finest Mac n' Cheese: aged white cheddar cheese mixed with lobster chunks and broccolini. Yes, it's better than it sounds.
Pinehurst No. 6's and Pinehurst No. 7's clubhouses are the weakest of the bunch at Pinehurst, but Pinehurst No. 8 is a stand-alone facility opened in 2005 that offers every player a member-for-the-day experience (in fact, members must pay the same fee as guests to play here).
It's worth sticking around for drinks in rocking chairs on the back patio that serves up a picturesque setting at sunset (no real estate on 450 acres of forest and wetlands), while there's also a restaurant and bar inside.
More photos
«
»
March 4, 2010
Brandon Tucker is the Managing Editor for Golf Advisor. To date, his golf travels have taken him to over two dozen countries and over 500 golf courses worldwide. While he's played some of the most prestigious courses in the world, Tucker's favorite way to play the game is on a great muni in under three hours. Follow Brandon on Twitter at @BrandonTucker and on Instagram at BrandonTuckerGC.