Pros and hackers unite in PGA Tour pro-am at Viking Classic

By
Brandon Tucker
,
Managing Editor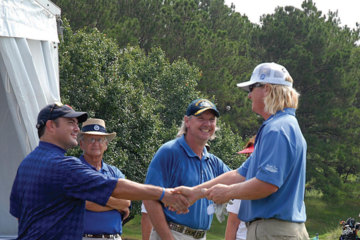 View large image
PGA Tour pro Charley Hoffman greets his pro-am group at the Viking Classic in Madison, Miss. (Courtesy MDA)
MADISON, Miss. - Janet Leach, a 20-handicapper, hits a screaming 3-wood from the rough 130 yards out that catches a waste bunker, scoots out, tumbles along the fairway and onto the green.
The ball's bumbling journey comes to rest just 10 feet from the cup.
The entire group goes wild - at the improbable prospect of a sure net-birdie and possibly net-eagle.
"Now that's a shot I can honestly say I don't have," laughs the group's tour pro, Charley Hoffman, whose own approach sits just outside Janet's.
It's the Wednesday pro-am at the Viking Classic at Annandale Golf Club near Jackson, Mississippi - where tour pros team up with four amateurs.
It's an often once-in-a-lifetime experience, and playing in the pro-am, unless you're an employee for the host sponsor or have some other sort of backdoor deal arranged, will probably be the most expensive round of golf you ever play. Most PGA Tour pro-ams can charge up to $4,000-$5,000 per golfer. The Viking Classic in that regard is a relative steal at just about $2,700 per entrant.
You also won't spend a dime upon arrival, and free goodies are waved in front of you at every turn. From substantial golf equipment gift certificates, to shirts, balls, free food and beverage on every tee box. Each player also receives an engraved plaque with a photo of your foursome and tour pro - also complimentary.
It's all an experience you'll remember for life, teaming up with one of the world's best golfers for four-plus hours on a tour-ready golf course.
Draft night: Where the fun begins
Choosing which pro you'll be playing with is where the fun begins. All foursomes gather at a pre-round banquet Tuesday night, where they huddle together and scan the list of available pros and rank their favorites. Then a lottery determines the order of the draft.
The strategies vary: some groups hope to tee it up with big hitters like John Daly or Bubba Watson. Others want to play with fun-loving personalities like Fred Funk, Duffy Waldorf or Boo Weekly.
The floor is filled with rumors like "I heard he's not very friendly" or "My buddy met him once and he's a riot!" Contestants are demoted to gossiping school girls when determining who should be their selection.
Once you're on the clock, you have 30 seconds to get your selection to the committee, and then it's game time.
Wednesday Pro-Am: It's all about going low
The Pro-Am is scored as a five-man best ball with handicaps, and par is the worst score on a hole, so everyone is playing for birdies - or net-birdies based on their handicap. Mid and high-handicappers who can score a handful of pars are a hot commodity here. The winning score is usually 18-under or lower. Pros of course are always good for a few birdies, but don't expect to see their weekend "game face" when they're walking the course with you.
"Wednesday is all about having fun, being relaxed," Hoffman said. "I usually try to come out and see the golf course before Wednesday, so I'm prepared (for the tournament)."
With the actual tournament just a day away, it also gives you an idea of how difficult the pros will have it. You don't play from the pro tees, but the rough is gnarly around the greens for everyone, the putting surfaces slick and the fairways tight.
Amateurs are susceptible to feeling loads more pressure in this environment, compared to hacking around in front of their foursome of fellow high-handicappers. There are a few fans on the course, usually just a few seniors getting a head start on autographs. The grounds are also filled with swarms of volunteers and active leaderboards displaying the leading groups.
It can be an intimidating sight, knowing this may be your only shot to showcase your stuff in front of the pros, as if it mattered.
"You've got to remember two things," said Mike Purkey, who's played in numerous pro-ams. "One: The pro doesn't care how you play. And two: However bad you are, he's seen worse."
October 3, 2007
Brandon Tucker is the Managing Editor for Golf Advisor. To date, his golf travels have taken him to over two dozen countries and over 500 golf courses worldwide. While he's played some of the most prestigious courses in the world, Tucker's favorite way to play the game is on a great muni in under three hours. Follow Brandon on Twitter at @BrandonTucker and on Instagram at BrandonTuckerGC.