The PGA Tour needs fewer 'nice guys' like Zach Johnson

By
Brandon Tucker
,
Managing Editor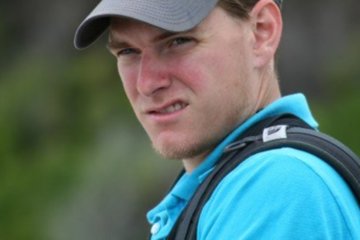 View large image
The PGA doesn't need another winner, it needs attitude. It needs Brandon Tucker (Courtesy Mark Soskolne)
Twenty-something Zach Johnson's 2007 Masters win was a crowning achievement for the United States' new generation of golfers - who all seem to have personalities as bland as Wonderbread.
The LPGA has a new class of young hotties. The PGA's newbies are stiffs. Johnson, while respectful, isn't representative of us unruly twenty-somethings. I want someone oozing with charisma and lacking etiquette.
In other words, the Tour needs…me.
If I had the game to compete on the PGA Tour (about 15 shots and two sets of tees away), I wouldn't win very much but I'd sure stand out from all the other corporate clones.
Here's a few reasons why:
Caddies: I wouldn't hire a professional caddie. I'd switch my bag boy each week. Maybe one of my childhood buddies is in credit card debt up to his nostrils, so I'd let him carry for me one tournament to help pay it off. Then the following week in Miami I'd find some leggy, groupie stripper to carry my sticks in a bikini top. Then I would rent a baby elephant and he could haul the clubs for me in Dubai.
I don't need a grizzled loser who was never good enough to make it on tour telling where my putts are going to break, and I know how to operate a ball washer.
Jive-talkin': Everyone is so damn respectful of each other on tour. It couldn't be more amicable/uninteresting. Everyone knows their playing partner the night before, so when asked by the press, I would fire-start: "I'm looking forward to playing with Mike Weir, because it will re-affirm my belief that left-handed golfers are inferior" or "I'm hoping Sergio watches my putting a little tomorrow during the round because he needs any help he can get."
Hat not for sale: Nothing makes me madder on a golf course (besides beverage carts out of Dr. Pepper) than seeing all these amateur hacks sporting manufacturer's ugly and boring golf hats. The pros are getting paid thousands of dollars to wear these hideous things. You shouldn't pay $19 to wear one. For me, headwear is a definitive piece of expression. Instead of Callaway or Ping, I'd rep my faded Detroit Tigers hat or the flaming "H" logo from my high school in Ann Arbor.
Rage against the machine: Most pro golfers are corporate suck-ups who never say anything politically or socially charged in fear of losing their cushy sponsorships. My press conferences would barely cover golf. Instead, I would be like Sean Penn, using my celeb status to share my half-informed views on important issues like Iraq, global warming and Anna Nicole Smith.
No Ryder Cup: I'm tired of Europeans thinking they're so great because their entire continent can beat our little country. Wouldn't that be like putting California vs. the rest of the US - and then the US squad rejoices when they win? How about we change the rules so the U.S.A. plays one respective country like England or Sweden each event.
Even if I qualified I'd pass it up. The players don't even make any cash that week. Instead, I'd spend that week lobbying for Olympic golf and not only eliminating alternate shot as an event but pressure the USGA and R&A to stop recognizing it as a form of competition.
Focus on the silly season: There are enough bandwagon golfers who tune up their game for the majors and a shot at immortality. What a waste. The courses are too hard (who likes hitting out of high rough?) and the field is too deep. On those weeks, I'll find some pro-am or card show willing to pay me some cash to show up and sign autographs.
And lastly, I would be the first pro golfer on Dancing with the Stars.
April 17, 2007
Brandon Tucker is the Managing Editor for Golf Advisor. To date, his golf travels have taken him to over two dozen countries and over 500 golf courses worldwide. While he's played some of the most prestigious courses in the world, Tucker's favorite way to play the game is on a great muni in under three hours. Follow Brandon on Twitter at @BrandonTucker and on Instagram at BrandonTuckerGC.