Padraig Harrington's British Open win may be a sign of the times for U.S. golfers on the PGA Tour

By
William K. Wolfrum
,
Contributor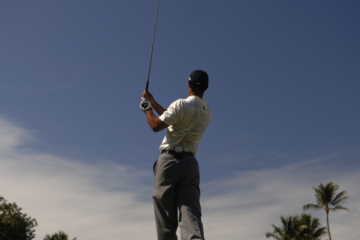 View large image | More photos
Tiger Woods' dominance in majors may have created an era of players who are unable to cope with the pressure. (Courtesy PGA of America)
Watching the wild finish to the 2007 British Open, a couple of things came to mind. For one, Padraig Harrington's thrilling victory means we don't have to hear Paul Lawrie's name before every major as the last European golfer to win one.
Another thing was this: Tiger Woods may have ruined the rest of the world when it comes to playing pressure golf. Face it, without taking one ounce of credit away from Harrington - as deserving a champion as is out there - it wasn't like he shook off the pressure to grab his slice of glory. Basically, he just choked slightly less than Sergio Garcia and Andres Romero.
If ever there was a show of how players are unable to close the deal, it was on hole No. 72. Harrington, needing a par to shut Garcia out, twice went into the water to double-bogey. Garcia, needing a par for his first career major, played Carnoustie's famed No. 18 so timidly you almost felt he was trying to two-putt from 10 feet to guarantee a tie.
It was unimpressive to say the least. But, for Europeans, at least these golfers were there. Because while Stewart Cink, Hunter Mahan and Steve Stricker were all in the top 10, none was a true threat to win. Woods finished a respectable 12th - respectable for someone not named Tiger, perhaps - and was never remotely in position to win.
Which brings us to Carnoustie's final lesson: Outside of Tiger and possibly Phil Mickelson (though his play has been hideous of late), U.S. golfers may struggle even more now in getting to the winner's circle at the PGA Tour's biggest events.
It's very possible Woods is in one of his regenerating stages - like 2003-04 - this time adjusting to fatherhood and a new life. He could very well re-emerge as the most dominant golfer in the game, and sooner rather than later.
In reality, however, it is the Europeans that appear to be ready to take the game by the throat and dominate upcoming majors now that Harrington finally kicked the door down.
There were 31 majors played between Lawrie's 1999 British Open win and Harrington's triumph. Now at first blush, the numbers look good for Americans. Of those past 31 majors, 22 of them have gone to those from the United States. However, 14 of those are the property of Woods and Mickelson.
Zach Johnson's Masters triumph was the first major win by an American not named Tiger or Phil since Todd Hamilton won the 2004 British Open, and you really have to go back to 2003, when Jim Furyk, Ben Curtis and Shaun Micheel were all winners to see a time when other Americans were really collecting trophies and dominating the golf scene.
And keep in mind, during those 31 majors, Europeans won exactly zero. What happens now if Europeans start winning one or two a year? The talent is most obviously there for them to dominate, much more so than Americans, especially with Woods and Mickelson struggling to win.
In the end, the main thing we may have learned from this stellar British Open is that Europeans are not going to just dominate the Ryder Cup. Harrington's victory, and Garcia's run may mean lean years are coming for Americans in majors. Especially Americans not named Tiger or Phil.
More photos
«
»
July 25, 2007
William K. Wolfrum keeps one eye on the PGA Tour and another watching golf vacation hotspots and letting travelers in on the best place to vacation. You can follow him on Twitter @Wolfrum.