As with Sin City itself, weird stuff happens in Las Vegas golf

By Jack Sheehan,
Contributor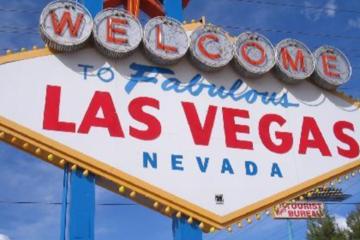 View large image
Weird stuff happens in Las Vegas - you think the golf's any different?! (.)
I've lived in Las Vegas for 33 years. Weird stuff happens here. Nearly every day.
O.J. Simpson beats a double-murder rap in L.A. when the evidence is overwhelmingly against him, then 13 years later comes to Las Vegas and steals back stuff that probably belongs to him in the first place, and now my law-enforcement friends tell me he's looking to go to prison for about 15 years. Weird.
The FBI chases fundamentalist Mormon polygamist leader Warren Jeffs all over the country, and where do they find him? Las Vegas. Could it be that he had 50 more young brides lined up and ready to wed via our drive-thru wedding chapels? Bizarre.
Britney Spears strategizes for a year on how to make a comeback, turns down dozens of good offers, then chooses to do a hypnotic grind dance at the Palms Hotel during the MTV awards, which becomes the entertainment crash-and-burn of the year. Unexplainable.
Our current governor has more state budget and political problems on his hands than a dozen statesmen could handle, but it's learned through phone records that he text-messaged a married woman more than 800 times in a single month. Says he's quick with his thumbs and that they're just good friends. Beyond weird.
It's no different in the world of Las Vegas golf. Bizarre occurrences abound here, and each time one of these wacky and twisted events unfolds I find myself asking whether it could have happened anywhere on the planet but here.
What follows are five "only-in-Las-Vegas" golf moments that stand out:
The shortest club in the bag
I saw a several-time Oscar-nominated actor, a household name for 40 years, taken off the Las Vegas Country Club in handcuffs as he was playing in an LPGA pro-am. The celebrity, who had been up all night working on a Hollywood movie set before boarding a morning flight to Las Vegas to make his tee time, apparently had imbibed a few mimosa fizzes before he pushed the first tee in the ground on the 10th hole. Within half an hour he needed to relieve himself, and there wasn't a Porta-Potty to be found. Acting oblivious to the couple dozen spectators in his gallery, he simply unzipped and got busy in a water hazard bordering the 11th fairway.
While you would think most people would just ignore the oh-so-casual water, a woman complained, police were called, and Mr. Hollywood was arrested and booked for indecent exposure. I was playing in the group behind, and while I was originally upset at the holdup in play and all the commotion caused by the arrival of the cops, when I was told what had transpired I was amused by the irony of it all. Here we have a town in which nudity is plastered all over billboards and taxi-cab signs, and this poor bloke exposes the shortest club in his bag and he's dragged to the slammer in bracelets.
I read in the next day's newspaper that the charges were dropped as fast as the actor's trousers, as they should have been. Rumor has it the actor's pro-am team photo is still waiting for him in the club room at Las Vegas Country Club.
Mike Dunaway does The Dunes right
In the early 1980s a long-hitter named Mike Dunaway, who was a better-ball partner of mine in several area tournaments, wagered $25,000 against Dunes Hotel owner Arthur Shenker that he could drive a ball from the roof of the hotel onto the 18th green of the Dunes Emerald Green golf course. (Both the Dunes and its golf course are currently rubble underneath the Bellagio.) The approximate carry was 400 yards, and this was in the days of steel shafts and golf balls that weren't injected with plutonium.
A small pod of turf was placed on the roof, which was over 20 stories high, and Dunaway had five shots to accomplish the feat. While three of Mike's blasts had enough distance, none managed to stay on the putting surface and Shenker won the bet. News footage of the wager ran around the world over the next few days, generating about half a million dollars in free advertising for the Dunes. I learned later that no real money changed hands. The stunt was simply a marketing scheme that paid off handsomely both for the Dunes Hotel and Dunaway, who soon after twice appeared on the cover of GOLF magazine for his driving exploits. Deceitful but ingenious.
The best player in the world
bullet> I saw a golfing buddy who was 11 under par at TPC Summerlin and needed only two pars to break the course record and two birdies to shoot the Holy Grail of Golf target of 59, intentionally hit two balls into the water on the 17th hole so he wouldn't have to turn in his score card and lower his handicap. The player, who shall remain unnamed, was known by those of us who regularly played with him in Las Vegas as "the best player in the world that no one had ever heard of."
For an entire season, this terrifically talented golfer averaged 66 from the back tees at Summerlin (which is the host course of our annual PGA Tour stop), and along the way he fleeced the likes of Fred Couples, Robert Gamez, and Dan Forsman in straight-up money games.
I know for a fact that he aimed the balls in the water that day because he told me he was going to do it as we walked to the 17th tee. "Word of this score could absolutely destroy my negotiating power in future money games," he said.
Where else but Las Vegas, home to the biggest gambling action in the world, would you see something like that? Borderline kinky.
PGA Tour, Las Vegas memories
I emcee the 18th green ceremonies each year for the PGA Tour stop in Las Vegas, and with that job comes some unusual memories. I'll never forget chatting up Tiger Woods after his first tour victory in 1996 and kidding him about being the only player in the field not old enough to gamble in a casino. He calmly replied, "D'ya think that stops me?"
Another time I watched Jim Furyk's lip quiver like a rattlesnake after his first win in '95, when I asked him what his father Mike must be feeling watching from home. Jim got so choked up that I couldn't get the next question out of my throat.
And then there was Bill Glasson, who won here in 1997 and became the ultimate challenge for an interviewer by answering every query with one- or two-word answers. I would ask a detailed question about strategy on a key shot he executed on the final nine holes on his way to a one-shot victory, and he would just grunt a brief answer or ignore me completely. Needless to say, Glasson had me tap-dancing like a semifinalist in a Junior Miss pageant. He didn't just put egg on my face; more like a Spanish omelet with grits on the side.
As if that weren't bad enough, I had to interview Bill again some 30 minutes later at our tournament volunteer party. I wasn't exactly relishing the opportunity. But when we got in front of that merry group, Glasson suddenly turned into Rodney Dangerfield, cracking jokes, providing long and interesting answers, and generally charming the socks off the crowd.
When I asked him later about the Jekyll-Hyde routine, Glasson said, "Ah, I was just messing with you the first time. No big thing."
Meanwhile I was looking for a chisel to get the yoke off my face.
My final weird but wonderful memory of golf in Las Vegas happened in the fall of 1991. Earlier in the day, Chip Beck had shot a 59 in the third round of the Las Vegas Invitational, and with just the second sub-60 round ever shot on tour, Beck had won a $1 million bonus from the Hilton Hotels Corporation. Half the money went to a designated charity and half to Chip.
Two hours after the completion of his round, and hoping to further groove the swing that had produced 13 birdies earlier in the day, Beck went to Sahara Country Club to practice. The girl at the counter asked if she could help him, and he said he would like a large bucket of range balls.
"That will be $4," she said, barely glancing at her customer. Beck started to give her the money when a bystander said, "Miss, you might want to just let him have a free bucket. This man's a touring professional and he just shot 59 in the LVI."
The girl's cheeks flushed with embarrassment before rallying with a cute comeback line. "Well then, he can afford to pay for his range balls," she said.
August 1, 2008
An author, professional keynote speaker, celebrity host, and humorist, Jack Sheehan is a 30-year Vegas insider. He is a New York Times best-selling author and screenwriter, with more than 11 books in print, including two with professional golfer Peter Jacobsen, Buried Lies and Embedded Balls.