Lake Michigan golf showdown: Arcadia Bluffs Golf Club vs. Bay Harbor Golf Club

By Brandon Tucker,
Managing Editor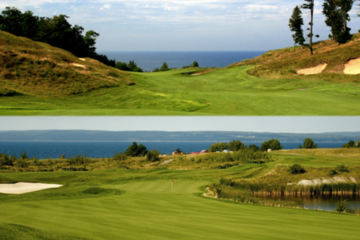 View large image | More photos
Lake Michigan steals the show at Bay Harbor Golf Club and Arcadia Bluffs Golf Club. (Brandon Tucker/TravelGolf)
PETOSKEY, Mich. -- They stand as the most coveted public golf courses in Michigan: Arcadia Bluffs Golf Club and Bay Harbor Golf Club's Links/Quarry nines, both set on Lake Michigan.
Opened within two years of each other, they're also both among the priciest plays in a state known for great value. If you have the coin to play both, do it. If you can only play one, we'll try and guide you toward which course is right for your group (and also highlight some of their best deals so you can play for less).
Arcadia Bluffs vs. Bay Harbor: Design
Arcadia Bluffs has been softened since its original design by Warren Henderson and Rick Smith and now features wider fairways and shorter rough.
The land that slopes gently toward the lake was removed of most trees, and land was moved around to create massive, Irish-inspired dunes surrounding most fairways. Bunkers are plentiful, and some of the 50 sod-walled bunkers are intimidating and as deep as you can find -- here or in Scotland.
But it's the fast, humongous and complex greens that are the real draw here. The greens average about 8,000 feet and quickly expose weak short games and poor course management.
Arthur Hills had a much more difficult property to worth with at Bay Harbor. He had to get the best holes out of an abandoned quarry and had to fit 27 holes around a large residential and resort plan. Some spots worked better than others.
The hole variety is better at Bay Harbor, with a series of short, birdie chances and brawny, hang-on-for-dear-life plays, though Arcadia Bluffs' golf-only parcel yields better consistency.
Edge: Arcadia Bluffs
Arcadia Bluffs vs. Bay Harbor: Signature holes
Arcadia Bluffs' stretch from about the eighth green to the par-3 13th hole delivers one knockout after another. The 12th hole is a long par 4 that plays along the bluffs (almost a mirror image of the fourth hole at Pacific Dunes). Further inland, the very Irish-looking par-3 ninth hole sits tucked within dunes.
Bay Harbor has standouts scattered throughout, including the par-5 seventh hole on the Links nine, which jostles with Arcadia Bluffs' 11th hole as the signature par 5 in Michigan. The Quarry side is even better than the Links once you get past the brutal par-5 third hole and head into the Quarry and finish along the water -- not above it like Arcadia Bluffs. The lake doesn't really come into play at Arcadia Bluffs, while it does at many points at Bay Harbor.
Edge: Bay Harbor
Arcadia Bluffs vs. Bay Harbor: Amenities & Clubhouse
Both clubs, as you'd expect, have top-shelf amenities such as golf cart GPS and even caddies available for hire.
Bay Harbor's clubhouse overlooks Little Traverse Bay at sunset, and you can grab a porch view and have cocktails and appetizers.
Arcadia Bluffs' clubhouse doesn't sit on the lake. Rather, it looks down from above the golf course from about 600 yards away. There is a restaurant with patio seating and lawn chairs overlooking the 18th green, plus better warm-up facilities.
Arcadia Bluffs' clubhouse and practice area are more comfortable than Bay Harbor's, which were squeezed in pretty tight to make use of the close-up bay view.
Edge: Arcadia Bluffs (not including the Inn at Bay Harbor or other Boyne properties)
Arcadia Bluffs vs. Bay Harbor: Tee time and package specials
Seniors 55 years of age and older can play Arcadia Bluffs for $90 every Tuesday all day (with valid ID). Arcadia Bluffs also offers holiday rates for $110, but be sure to book well in advance. You can also stay and play at the new lodge for $255 on Sundays with breakfast included Monday morning.
Because Bay Harbor is part of the Boyne umbrella of eight courses and three resorts, there are a few more ways to get great package deals. You can stay and play at the Inn at Bay Harbor for as little as $162 midweek.
During the summer months you can play Bay Harbor for $99 after 5 p.m., which is still enough time to get in 18 holes. Even better, in September the twilight rates begin at 2 p.m.
Edge: Bay Harbor
Arcadia Bluffs vs. Bay Harbor: Shortcomings
Bay Harbor's routing takes a back seat to real estate in some spots, making for some long cart rides between holes through residential areas, and homes line some sides of a few fairways. Other holes are a bit funky, such as the Quarry's par-5 third hole, which has a blind layup and long carry to a small green. It's the least "resort friendly" of the holes, but then again this course was originally intended to be a private club.
For a links-style design, Arcadia Bluffs is a tougher walk than anywhere you'll play in the British Isles. I'd like to see some walker paths between greens and tees as well as from tees to fairway. The way it is now, I sure wouldn't walk it, but would rather take a forecaddie in my group with carts.
While I actually enjoy Arcadia Bluffs' three par 5s in the first five holes, the rest of the holes are mostly long, brutish plays. There are no real short par 4s or par 3s to break up the round.
Edge: Arcadia Bluffs
Arcadia Bluffs vs. Bay Harbor: The verdict
Arcadia Bluffs might be a more thorough examination of golf for the low-handicapper and more unique to someone who has never played a links course. But if I could only take my mid-handicapper golf group to one course, I'd opt for Bay Harbor by a nose because of its strong hole and scenery diversity. That's due in part to the quarry and shoreline holes, while there are also drivable par 4s and short par 3s.

More photos
«
»
September 3, 2010
Brandon Tucker is the Managing Editor for Golf Advisor. To date, his golf travels have taken him to over two dozen countries and over 500 golf courses worldwide. While he's played some of the most prestigious courses in the world, Tucker's favorite way to play the game is on a great muni in under three hours. Follow Brandon on Twitter at @BrandonTucker and on Instagram at BrandonTuckerGC.