An inside look at playing the World Amateur Handicap Championship in Myrtle Beach

By Brandon Tucker,
Managing Editor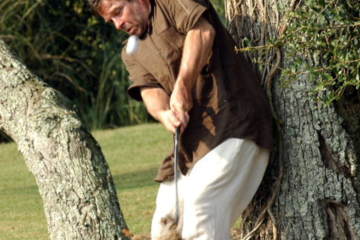 View large image | More photos
Playing with golfers as good, or as bad, as you: just one of the many things to like about the World Amateur Handicap Championship. (Courtesy worldamgolf.com)
MYRTLE BEACH, S.C. - The 24th annual World Amateur Handicap Championship was played last week on nearly 70 golf courses in Myrtle Beach and featured close to 3,800 golfers ranging from scratch to blindingly awful.
The World Am is the biggest tournament of its kind and has a loyal following. In my first outing, I met players in their fifth, 10th and 15th straight tournament.
For all of you amateurs curious what all the fuss is about, I've compiled a concise list of "likes" and "dislikes" from my first appearance to help you determine whether the event is worth your time and cash.
Like: Free stuff. For the $499 entry fee, you get four rounds of tournament golf on four different courses plus loads of freebies, especially at the nightly 19th hole at the Myrtle Beach Convention Center. Local establishments dish out free food, drinks and apparel, free golf trips and more.
Dislike: One segment of Myrtle Beach was noticeably absent at the 19th hole: the nudie bars. I kept wandering down several corridors hoping to stumble upon the sounds of "Pour some sugar on me," whereupon entering the dark, cloudy room hundreds of fellow golfers were stuffing monopoly money down strippers' g-strings. Alas, I never found this sanctuary, though I did score a free neck massage on the main floor.
Like: Twelve different playing partners. Each round, you are paired with three different players within your flight. I liked this, because not only do you get to meet people from all over (I played with a guy from my hometown, and another from Bologna, Italy) but if you should penalize your cart partner for teeing off in front of the markers, it's only severely uncomfortable the remainder of the round and not the tournament. Sono spiacente, Roberto.
Dislike: Six-hour rounds. We golfers are only programmed to produce about four hours worth of small talk among newly introduced playing partners. Rounds at the World Am are famously long, lasting up to six hours, so the last two hours are usually a bit uncomfortable once we've established hometowns and compare interest rates on our mortgages.
Like: Playing different courses each day. I played four courses, as north as Brunswick County, as south as Pawleys Island. They dish out the courses among flights pretty evenly, so usually what happens is you play two mid-level courses and two upscale courses.
Dislike: What's with all the courses charging $3 extra for warm-up range balls? At Pawleys Plantation we were all given free hats, bottled water and a bag tag. A nice gesture for sure, but a nicer one would be a giant pyramid of balls we can take hacks at au gratis.
Like: A bon-a-fide tournament atmosphere. It's tough to find serious competition in your weekend round full of preferred lies and hangovers.
Dislike: You're telling me these white lines are 'O.B.'? I always play Ms. Johnston's backyard flower bed to the left of the third hole at Sandpiper Bay as 'Ground Under Repair.' Can I get a second ruling?
Like: Online scoring. You could check out the scores of each flight nightly on the WorldAm Web site. On the final-day playoff, scores were posted in near real time as scorers would radio in hole-by-hole to the scorer's tent.
Dislike: I'm not sure some of us want all our scores posted online for the entire world to see. I couldn't get to sleep Monday night because my golf buddy up in Michigan - who was apparently aware of this feature - kept texting my phone into the wee hours of the night ripping on my first-round score: 91 BTuck? U get the shanx? LOL!!
Like: Handicaps. It's refreshing to play in flights sorted by handicap, because on the first tee of each round, you think you have a shot at beating your 120-player field. This feeling is short-lived once you send your first tee shot O.B. and four-putt from twelve feet on the first green. Rest assured, someone in your group will do the same sometime during the round too.
Dislike: Sandbaggers. Numerous players this week in most flights were disqualified for "sandbagging" - a result of the very elaborate system used to investigate possible suspects. As a result, these scumbags were prohibited from advancing to the Friday playoff at the Dunes Club. Though commendable, I don't believe this penalty is stiff enough. They should all be ordered out onto the driving range so the rest of their flight can launch balls at them while they try to hide behind a flagstick. Guilty individuals will also have to pay $3 each for our ammo.
More photos
«
»
September 5, 2007
Brandon Tucker is the Managing Editor for Golf Advisor. To date, his golf travels have taken him to over two dozen countries and over 500 golf courses worldwide. While he's played some of the most prestigious courses in the world, Tucker's favorite way to play the game is on a great muni in under three hours. Follow Brandon on Twitter at @BrandonTucker and on Instagram at BrandonTuckerGC.