Best of 2009 travel awards: From golf at North Berwick and Dunmaglas, to lodging at Finca Cortesin and Doonbeg

By Brandon Tucker,
Managing Editor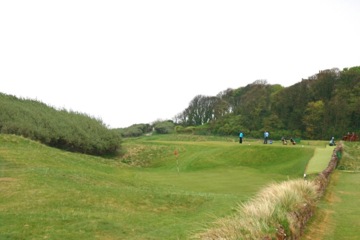 View large image | More photos
Best golf course played in 2009? Brandon Tucker picked North Berwick over courses like Valderrama and Ballybunion. (Brandon Tucker/WorldGolf.com)
Each December, I look back on my golf-travel schedule and wonder how in the heck I'll ever top it. Somehow, I managed to do it again in 2009, with visits to seven countries and more than 100 golf courses.
In 2009, my international schedule was especially strong. I visited Thailand, Costa Del Sol in Spain, Alberta's Canadian Rockies and Scotland's rich East Lothian region.
I was able to fill the Internet with tidbits. Here's a look back on some of the year's finest discoveries:
Favorite golf course: North Berwick
If you want an introduction to links golf, I can't think of a better golf course than North Berwick in East Lothian, Scotland. North Berwick is quirky, historic, fair, a good test, and it's got plenty of scenery. I adore the Old Course in St. Andrews, but in some ways, North Berwick is better.
Honorable mention: Valderrama Golf Club, Jasper Park Lodge, Pacific Dunes and Tralee.
Best golf course I'd never heard of: Dunmaglas
As a Michigan native, you'd think I'd know about Dunmaglas Golf Course, but no. Just a few minutes from Bay Harbor, this course doesn't get much ink, but it's an essential northern Michigan golf experience on 800 beautiful acres - and a good value, too.
Best playing lesson: Grant Rogers at Bandon Dunes
If he's available, sign up for 18 holes on Pacific Dunes with Bandon Dunes Director of Instruction Grant Rogers. He won't tinker much with your swing. But your mind will get a tuneup, and you'll remember why you play this silly game in the first place.
Best golf-history lesson: Gullane's History of Golf Museum
Run by local legend Archie Baird, the History of Golf Museum at Gullane Golf Club in East Lothian, Scotland offers a wonderfully interesting, half-hour primer of the game, from its Dutch origins to present. Don't visit Gullane without asking about your own tour.
Best on-course advice: Drink the good stuff!
"The secret to aging well," said an older Texas gentleman with whom I was paired during a morning round at Forest Creek Golf Club north of Austin, "stay away from well liquors."
Best historic golf inn: Kilspindie House Hotel in East Lothian
The charming Kilspindie House Hotel in Aberlady (www.Ducks.co.uk), Scotland includes a cozy bar, a great menu and comfortable rooms. It's within a couple miles of Gullane, Muirfield and more than a dozen other links golf courses in East Lothian. As a bonus, owner Malcom Duck can get guests on the private Renaissance Club. It's a new Tom Doak design worth seeing. In fact, Doak stays at Kilspindie House every time he's in East Lothian.
Best new golf hotel and spa: Finca Cortesin in Spain
Finca Cortesin, a five-star golf retreat in Spain's Costa Del Sol, is out-of-this-world. The Finca Cortesin golf course is very good, but the spa is fit for royalty, and the rooms are as fine as I've seen in my travels.
Best accommodations for a group: Doonbeg Lodge in Ireland
If I've got a group of eight or more, we're staying at the Doonbeg Lodge in Ireland. Stewart Cink stayed there the week before he went to Turnberry last year for the Open Championship. We know how that turned out for him. Cink couldn't have picked a better base than Doonbeg, a gorgeous and comfortable lodge within close range of some of the finest links golf courses in Ireland, including Lahinch, Ballybunion and Tralee.
Best off-the-golf-course day trip: Snorkeling in the Sea of Cortez
From La Paz, the capital of Mexico's Baja California Sur, you can take a two-hour yacht trip to the land of the sea lions. Find this remote rock in the Sea of Cortez and you'll see scores of sea lions as they gather to swim or just bellow at each another. The ride out is tons of fun. And snorkeling as the giant beasts swim around you, while a little frightening, ranks as a one-of-a-kind experience. On my way back to the coast, dolphins swam by the yacht.
Best foodie destination: Spain's Costa Del Sol
You'll convince your non-golfing wife to go with you to Spain's Costa Del Sol, thanks to its history, weather and sights. On top of all that, there's the food. Delicious organic wines and informal tapas bars abound, especially in Malaga, Marbella and Ronda.
Best post-round sandwich: Jigger Inn at the Old Course Hotel
Jigger Inn's club sandwich at the Old Course Hotel, which also has one of the best views around. On the menu, it's described as the world's best, and I'll admit I've enjoyed none better in my travels. The secret? A layer of egg in the sandwich, along with a lighter, pita-type bread, which allows room for extra meat and good stuff inside.
Best caddies: Muang Kaew Golf Club in Thailand
Thailand's caddies are good everywhere, but at Muang Kaew Golf Club in Bangkok, they'll give you tee-box massages and fan you when you've got beads of sweat forming on your brow. Oh yeah, they're not too shabby with the reads, either.
Best wildlife encounter: Bears at Kananaskis Country Golf Course
The golf courses in the Canadian Rockies are chock-full of them, but the fourth hole at Kananaskis Country Golf Course took the cake. A grizzly bear and cub waded through river and into play. They waddled around for about 20 minutes within about 150 yards of my group, though I've never been more patient while waiting on a tee.
More photos
«
»
January 13, 2010
Brandon Tucker is the Managing Editor for Golf Advisor. To date, his golf travels have taken him to over two dozen countries and over 500 golf courses worldwide. While he's played some of the most prestigious courses in the world, Tucker's favorite way to play the game is on a great muni in under three hours. Follow Brandon on Twitter at @BrandonTucker and on Instagram at BrandonTuckerGC.