Growing the game of golf difficult in ex-Soviet Bloc countries

By
Jeffrey White
,
Contributor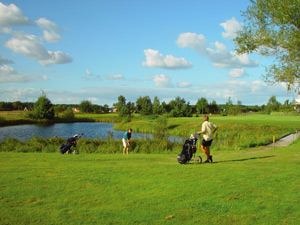 View large image
Golf Resort Semlin am See in eastern Germany is trying to bring golf to a region that has been slow to embrace the game, largely because of the legacy of communism (Courtesy Golf Resort Semlin am See)
SEMLIN AM SEE, Germany - If you're lucky to come from a golf-rich country like the U.S., Britain or Ireland, it can be hard to imagine places - especially in developed Europe - where golf really struggles to catch on.
Welcome to eastern Germany. And welcome to Simon Dicksee's challenge.
Dicksee is an Englishman, an old R&A hand who has spent a good portion of his professional life traveling the globe and putting R&A money towards growing the game in places like Iran.
Now on his own and away from the R&A, Dicksee has settled down as the head pro at Golf Resort Semlin, about an hour's drive outside Berlin - and he wants to get more Germans to embrace the game.
But this is easier said than done.
"This is still a new sport here in many ways," he says. "Mostly it's the German nouveau rich that are taking up the game. It's still not seen as a game for the general public."
Semlin, an attractive, small resort, is right in the heart of what used to be acres of Soviet collective farmland in the German Democratic Republic (DDR). East Germany was firmly in the Soviet Bloc and thus those who grew up here were taught to be scornful of the trappings of bourgeois life.
Team sports were the thing during communist times - by this, we're talking team sports that extolled the supremacy of socialism - and individual sports like golf and tennis were labeled too elitist, the playgrounds of the rich and decadent.
Therefore, what we're living through now is a time when really the first generation of central and eastern Europeans is discovering golf. In the 17 years since the fall of the Berlin Wall, golf courses have sprung up in places like Poland, Hungary, the Czech Republic and eastern Germany.
This does not attract the attention of us in the U.S. (and really, why should it?). Yet it's interesting to watch a sport's birth among a people, many of who probably still have parents and grandparents questioning their enthusiasm for such a "western" game like golf.
One of the LPGA Tour's up-and-commers is named Jana Peterkova. She hasn't done too much to date, but this Czech golfer knows what the game she's come to master represents to her family, who defected to Australia prior to the 1989 Velvet Revolution in then-Czechoslovakia.
"My dad forced me to play [golf] as a way of rebelling against the communist regime," Peterkova told WorldGolf.com's Brandon Tucker at this year's U.S. Women's Open.
"He had an idea that after the revolution, I would be the best player in the country, which actually happened."
There haven't been too many, male or female, like Peterkova - yet. Golf right now in the former Eastern Bloc is much more localized, with many regions still trying to get their golf infrastructure up to a level that can begin to breed professionals.
Here in Semlin, the emphasis in part is on simply introducing people to golf. There are 27 holes of golf for anyone possessing a handicap. But there's also a 6-hole practice facility (with plans to add another three holes by October) open to all beginners, complete with a driving range, putting green, full video analysis and one-on-one sessions with golf instructors.
"We are trying to give beginners their first contact with the game, to bring them to the game," says Janine Lauersdorf, Semlin's manager.
Guests of the resort can get all the instruction and practice they want for free. But here's the more encouraging part: the general public can come and use the facility all day for 5 euros (about $8). Not a bad deal.
The club itself supports a golf team of mixed ages that competes against other club teams in the region. Dicksee is in the middle of trying to set up a charity, affiliated with the club, to focus on youth golf.
All good signs, and all reminders sports can grow from a grassroots level (something we might not think too much about in the U.S.).
Still, just looking out across club's parking lot, loaded with Jaguars and BMWs and Audis, reminds one that this is still a game for rich businessmen from Berlin and Hamburg, and it will probably take a lot to close the gap between them and everyday east Germans - a gap that exists to varying degrees in the golf of other former communist countries in Europe.
"It's just really hard to get local talent," Dicksee says. "It's the horse to water syndrome. They've got to want to play golf, they've got to want to do it themselves."
August 9, 2007