Why can't the PGA Tour lighten up?

By Brandon Tucker,
Managing Editor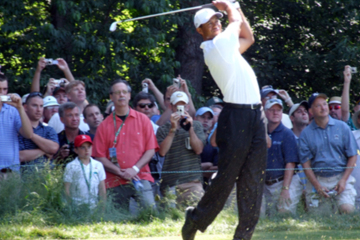 View large image
Let's have Tiger Woods step up to the tee to the strands of "Eye of the Tiger!" (Brandon Tucker/WorldGolf.comTig)
A simple click of a camera sent John Daly to the disabled list a few weeks back at the PGA Tour's Honda Classic. Some troublemaker fan snuck a camera through the gates and snapped a photo mid-backswing. Daly halted awkwardly, pulling some muscles, and withdrew from the event.
PGA Tour golfers are heralded for their sterling concentration and ability to put mind over matter -- yet they demand total stillness and silence.
That's hypocritical, and not much fun for golf fans.
In college basketball teenagers have to try to knock down late-game free throws while student fans use every body part they can legally wave to distract them. In Europe and South America soccer players remain intently focused on the field while minor civil wars break out in the stands.
Even bowling decided to allow crowd noise during competitors' rolls at ESPN tournaments a few years back.
Yet golf still demands tea-party etiquette. It makes watching the sport - live or on TV - as exhilarating as ironing socks.
Any old Joe can rip a 290-yard drive down a tight fairway in total silence. During our backswings us amateurs on the course have to deal with car honks, our partner's vibrating Blackberry, grounds crews revving up leaf blowers and little Matthew's backyard bar mitzvah to the left of the 13th fairway.
Fan rules for golf events make restrictions at the Smithsonian seem laid-back. Cell phones have been banned outright from the British Open Championship. Trying to take a camera to a tour event is like sneaking a full tube of Colgate through airport security.
And if you want a decent seat on a back-nine green, you'd better be ready to get there early and stay all day. Is it worth it just to spend six hours offering dainty claps?
It sucks to be a golf fan.
I don't go to tour events for the same reason I seldom attend church. We're expected to watch expressionless old white men, sit on our hands and only show emotion when it's expected of us. We're shuffled around like robots, and booze is in short supply.
There should be at least one tournament a year - maybe in Myrtle Beach, Tucson or some other town the demolition-derby tour might consider too low-rent - where a golf tournament can be less of a fire drill and more of a sports event.
They could call it the Riff-Raff Open. It will be complete with air horns, heckling, body paint and balls landing in bunkers-turned-hippie drum circles.
We could pull some ideas from other, more spectator-friendly sports. Like batters coming to the plate in the big leagues, golfers stepping up the tee would be serenaded with a theme song: "Hey Mickey!" for Lefty, "Eye of the Tiger" for Tiger, "The Gambler" for Daly, "Mr. Roboto" for Vijay ...
Or how about some organized chants, like in basketball? On a drivable par 4 with trouble all around the green, start up a "[boom boom] Dri-ver! [boom boom] Dri-ver!"
Streakers should be encouraged, so long as they don't shamelessly have a URL tattooed on their rump.
It will raise fan interest and the pros' powers of concentration to unforeseen levels. Ticket sales and TV ratings will go through the roof, and golfers will finally validate their reputation for mind over matter.
Sure, pros like Daly can make a six-foot putt in total silence. But can they do it with three stoners sitting front-row center, munching on nachos and arguing about the best Jack Black movie?
March 19, 2007
Brandon Tucker is the Managing Editor for Golf Advisor. To date, his golf travels have taken him to over two dozen countries and over 500 golf courses worldwide. While he's played some of the most prestigious courses in the world, Tucker's favorite way to play the game is on a great muni in under three hours. Follow Brandon on Twitter at @BrandonTucker and on Instagram at BrandonTuckerGC.