Chambers Bay in Tacoma, Washington: The old spirit of links golf comes full circle

By Brandon Tucker,
Managing Editor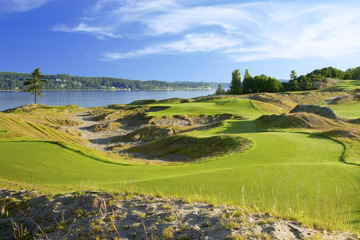 View large image | More photos
Robert Trent Jones Jr. designed Chambers Bay to be like a true links golf course off the Puget Sound. (Courtesy of Chambers Bay)
UNIVERSITY PLACE, Wash. - Take a walk around the new Chambers Bay golf course near Tacoma and many of its bold, modern features don't look much like a 19th century Scottish links.
Which in a way explains why the two are so similar. While startlingly different in many ways, 2015 U.S. Open host Chambers Bay represents the same philosophies that led to the conception of the United Kingdom's 19-century links.
Golf was founded in Scotland on barren, coastal dunes that couldn't nurture crops. This land was practically useless for everything but golf. Back then, there was no modern maintenance equipment or steam shovels, so the holes were found through the dunes and not built.
These days, pure links land is hard to come by. There's only so much of it, and it's almost always environmentally protected.
On the other hand, Chambers Bay is a former gravel quarry site located just off the Puget Sound. Eventually closed, the abandoned mine was on scenic waterfront property near the city of Tacoma on land rendered practically useless.
County officials thought a golf course could be a valuable asset here for not only locals, but to spawn tourism (and possibly host a big-time professional event). Thus the course was conceived.
Robert Trent Jones Jr. transforms Chambers Bay into a championship links
Chambers Bay can't be considered as pure of a links as in the United Kingdom or at Bandon Dunes Golf Resort just down the Pacific northwest coastline. Bandon Dunes, Pacific Dunes and Old Macdonald are staged on tens of thousands of years of accumulated dunes.
That's impossible to duplicate on a mining site with a steam shovel, but architect Robert Trent Jones Jr. did plenty of land shaping, from the construction of dunes to large, dramatic, Jones family bunkering to create a firm, links design. Many holes play through gravelly dunes overgrown with long fescue grasses and look like classic links. The gorgeous 10th plays through a narrowing fairway to a well-protected green sitting between dunes and looks like something from Ballybunion.
Other holes are less linksy, like the par-5 eighth, cut along Chambers' eastern border overlooking the rest of the lower lying holes. It feels more like a modern quarry, reclamation course.
Like so many of the U.K.'s best links, Chambers Bay sits on county-owned, public land. A walking path weaves through the holes, as well as around the perimeter. Next to the 18th hole is a park where families fly kites. A train runs by the course frequently, just as it does at Carnoustie or Prestwick.
Pure, traditional links? Not quite, but this is how the 21st century does links golf.
The U.S. Open coming to Chambers Bay
The announcement of the 2015. U.S. Open Championship coming to Chambers Bay is a startling deviation from a "normal" Open host. On the current rotation, every course dates back to the "Golden Age," aside from Torrey Pines South, which hails from the 1950s.
The appeal of Chambers Bay is clear. It will be HD TV eye candy at every turn, wide open with abundant spectator viewing spots. They may be able to get a record crowd through the turnstiles. The USGA is also happy about the course's variety, thanks to many tee box locations. Even if there's rain, the fescue fairways and greens should be fast and firm - no soggy, Bethpage Black letdown like at the 2009 Open.
With a par-5 closer, Chambers Bay may even yield another fist-pumping birdie on the championship's 72nd hole.
Stay and play in Tacoma: Hotel Murano
Chambers Bay is the best public golf experience in the Sea-Tac area. If you want the best hotel, head to Hotel Murano in downtown Tacoma, just a short drive from Chambers Bay (Seattle is 45 minutes north of Chambers Bay). The hotel can also help with Chambers Bay tee times.
Part of the ultra-stylish Provenance Hotels Group, the hotel has glassworks from a different artist on each floor. Guest rooms feature airier decor - down to your glass bathroom table. The rooms are comfortable, and like in every Provenance Hotel, they offer a "pillow menu" of six different pillow types on call. For additional comfort, check out the on-site Savi Day Spa for a full menu of massage treatments.
More photos
«
»
September 4, 2009
Brandon Tucker is the Managing Editor for Golf Advisor. To date, his golf travels have taken him to over two dozen countries and over 500 golf courses worldwide. While he's played some of the most prestigious courses in the world, Tucker's favorite way to play the game is on a great muni in under three hours. Follow Brandon on Twitter at @BrandonTucker and on Instagram at BrandonTuckerGC.