U.S. Open, Irish links, quipster Phil Mickelson: One golf writer's "Best of 2007" awards

By
Brandon Tucker
,
Managing Editor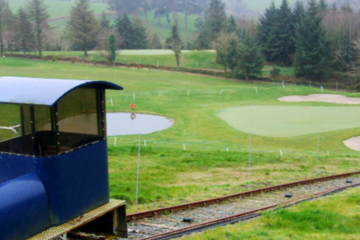 View large image
A tiny funicular transports golfers between the third green and fourth tee at Lisselan, 2007's best golf gimmick. (Brandon Tucker/GolfPublisher.com)
From Phil Mickelson's "wet dream" comment at the U.S. Open, to battling Oakmont Country Club, golf travel writer Brandon Tucker lists his "Best of 2007 Awards."
Tiger Woods and I really are quite a lot alike.
Right now, we're both taking some time off the golf course, reflecting on a 2007 golf season worth remembering. He's probably thinking about the trophies, while I'm thinking about all the great golf courses.
So maybe he made a few more birdies and a little more cash along the way, but I think I took way better golf course pictures than he did. Come to think of it, did he even write one course review? Slacker!
Before the 2008 season tees off and Tiger and I are back on the road again, it's time for me to usher up some "Best Of" awards from my travels in the world of golf for 2007.
Favorite pro tournament course: Oakmont C.C. Playing Oakmont the Monday after the U.S. Open revealed first hand just how difficult it can be to hit the fairway, and the rock-hard greens the pros were forced to deal with. Nothing like watching a well-struck sand wedge roll about 40 feet and off the green after landing on the 15th hole.
Prettiest course: Bay Harbor Golf Club. I saw loads of scenic courses from Ireland to Kiawah Island, but Bay Harbor in northern Michigan is probably the most distinct stage, set on bluffs overlooking Lake Michigan, then playing through an abandoned rock quarry.
Favorite links: (tie) Lahinch, Royal County Down. Blind shots never looked so good on these two legendary links on the Emerald Isle.
"Hidden gem": (tie) Pennard (Wales), Ardglass (N. Ireland). Both located near more renowned links (Porthcawl & Royal County Down, respectively), these two lesser-known gems are perched on rocky cliffs overlooking the sea and a worthy addition to any tour in the area. Save some space on your camera's memory card for these courses, they're as pretty as you'll find in the isles.
Best Myrtle Beach course: (tie) Caledonia Golf & Fish Club, Dunes Golf & Beach Club. I've seen roughly 30 courses in Myrtle Beach this year, and these two are a cut above and easily worth their respective $200 peak season price tags.
Best comeback: Cedar River at Shanty Creek Resort. This northern Michigan resort was left for dead a few years back. But thanks to new ownership and an intensive renovation effort to its facilities and courses, this scenic Weiskopf design is once again wildly fun to play and a tremendous value in golf-rich Bellaire.
Best gimmick: Lisselan Golf Club. Lisselan in West Cork, Ireland, is a tiny little nine-hole parkland that features two funicular cars escorting golfers from tee to green, then a Huck-Finn-style raft that ushers you across a lake to the 8th green.
Best wake-up call: The American Club in Kohler's personalized wake-up service, where a soothing voice tells you the day's weather and asks if she can call back in 15 minutes. A personalized snooze.
Best encounter with nature: Dataw Island's Cotton Dike course plays along water and marshland filled with dolphins, and on the 18th, you can witness them chasing fish onto the banks, then wiggling themselves onto dry land to eat it. Sure beats watching the trainers feed them at Sea World.
Closest encounter with an alligator: The Hills Course at Palmetto Dunes. I'm never walking a coastal course in the South ever again after stumbling upon a 10-12 foot gator.
Best quote: Phil Mickelson at the U.S. Open:
"This is the USGA's wet dream here," quipped a wearied Lefty after Thursday's opening round, referring to the USGA's infamous set up at Oakmont, which famously injured his wrist during a practice round a month earlier and derailed his 2007 season. It drew uproarious laughter from the pressroom, though most media outlets decided to censor this less-than-tasteful remark.
Mickelson would miss the cut the following day.
Biggest sweetheart: South Korea's Ji-Yai Shin at the U.S. Women's Open. Has anyone been scouring Ebay for the Ji-Yai plush doll? Someone's gotta manufacture one soon, because she's just too adorable.
Most memorable hole: No. 9, Royal County Down. The most invigorating yet intimidating tee shot you'll ever play, followed by a view from the top of the fairway overlooking the coastal town of Newcastle and the Mountains of Mourne that will be engraved in your brain forever.
Most forgettable hole: No. 17, Straits Course, Whistling Straits. Be sure to bring your carabiners and ice picks to climb out of the lakeside dungeon below the green on the left of Pete Dye's most sinister par-3.
Worst shot: I was playing with some of my buddies at King's North in Myrtle Beach. In front of about a dozen onlookers, one of them topped his drive so bad it went straight up in the air to about eye level, landed and rolled about three yards behind where he teed off.
We gave him a mulligan.
December 19, 2007
Brandon Tucker is the Managing Editor for Golf Advisor. To date, his golf travels have taken him to over two dozen countries and over 500 golf courses worldwide. While he's played some of the most prestigious courses in the world, Tucker's favorite way to play the game is on a great muni in under three hours. Follow Brandon on Twitter at @BrandonTucker and on Instagram at BrandonTuckerGC.