College football's BCS, PGA Tour's FedEx Cup produce two irrelevant 2008 champions

By
Brandon Tucker
,
Managing Editor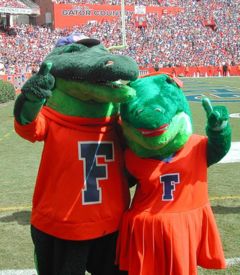 View large image | More photos
Gator fans are happy following the 2008 BCS Championship, but who outside of Gainesville is? (Courtesy of Tampa Gator)
College football's BCS and the PGA Tour's FedEx Cup have loads in common. Unfortunately, it's for all the wrong reasons.
And golf fans can only hope that sometime soon, president-elect Barack Obama lays some pressure on Tim Finchem & Co. to change the system like he has with the BCS committee (maybe a few more golf vacations to Hawaii can get him involved). Until then, we're stuck with maddeningly imperfect championships.
Here's just a sampling of the most obvious flaws:
Both the BCS and FedEx Cup are biased for those who peak late in the year. Look at the University Texas this fall. They beat Oklahoma on a neutral field but lost on the road, but lost two weeks later to a then Top-5 opponent. Down in Austin, no one can figure out why Oklahoma should have been represented, and their argument is a good one.
Undefeated Utah's case may be even bigger after steamrolling Alabama, ranked No. 1 most of the year.
In golf, Vijay Singh won the $10 million in cash despite a pretty lukewarm season. Consider the events of 2008: Padraig Harrington's back-to-back majors, Tiger Woods' red-hot start to 2008 followed by his epic duel with Rocco Mediate at the U.S. Open. Then there's the U.S. Ryder Cup squad prevailing at Valhalla this fall.
It's all pretty remarkable, so much so that five years from now, few will ever be able to tie Singh to any significant sort of event in 2008. This year in majors he missed two cuts (plus another MC at the Players Championship), a T65 at the U.S. Open and 14th in the Masters' small field. Not exactly dominating golf in the strongest fields.
But to his credit, Singh peaked late, winning two events in the FedEx Cup and coasted into his payday.
But who would vote him the PGA Tour's best player this year? You could argue Tiger Woods' shortened 2008 season was far more dominant.
It all produces champions that will never be universally accepted.
For the University of Florida, they'll be known as the team that won their second championship in three years, but many will place an asterisk next to them, since Utah, USC and Texas all had legitimate claims as better contenders than Oklahoma.
And fans of both golf and college football will agree, what's most disturbing is that despite the sheer discontent with the current flawed systems, both institutions appear content with their formats so long as the money rolls.
So until we all find something else to do on game days and don't turn on the TV or follow the coverage online, we're stuck with it.
How to fix the BCS and FedEx Cup
Fixing the BCS is easy: Playoff.
As for the FedEx Cup, the current format is so "F.U.B.A.R.," it would be best just to blow it up and start over.
But if that's a little too messy, here's a potential Band-Aid to help the relevancy of the Cup's final event, the Tour Championship, rendered largely meaningless in 2008:
The first two rounds will be stroke-play amongst the top 30 in the points standings. Then on Saturday, take the top four cumulative point totals and host a final-four, match-play semi-final, followed by the finals on Sunday. If there is enough disparity in point totals, let one of the players tee off on the first hole with a one- or two-hole lead.
If you want more golfers in the field on the weekend, let them continue to compete for consolation prizes.
It's as imperfect of a system as any, but at least people are tuning in on Sunday for some guaranteed drama.
More photos
«
»
January 12, 2009
Brandon Tucker is the Managing Editor for Golf Advisor. To date, his golf travels have taken him to over two dozen countries and over 500 golf courses worldwide. While he's played some of the most prestigious courses in the world, Tucker's favorite way to play the game is on a great muni in under three hours. Follow Brandon on Twitter at @BrandonTucker and on Instagram at BrandonTuckerGC.