Barack Obama and Tiger Woods all smiles in photo from White House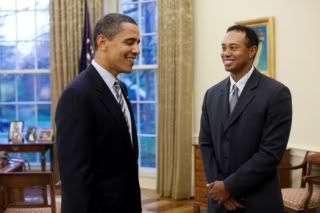 Oh to be a fly on the wall when Tiger Woods visited President Barack Obama in the White House on Monday.
–WKW
3 comments
Comment
from: Frankie C [Visitor]
Hopefully, Obama will teach Tiger to relax.

Frankie C

http://iwantcharlesbarkley.blogspot.com
04/27/09 @ 06:49
You need to do more stuff on Golf. And tweet about it.

This game needs more jaded, cynical, funny a-holes like you.

Meant as a sincere compliment of course.

Hack
04/29/09 @ 01:19
Comment
from:
siti di casinò nel Web
[Visitor]
I would like to thank you for the efforts you have made in writing this article. I am hoping the same best work from you in the future as well. In fact your creative writing abilities has inspired me.Really the blogging is spreading its wings rapidly...

09/12/09 @ 08:40
Comment feed for this post
Comments are closed for this post.