Tiger Woods gets licked by Labradoodle in front of his kids!
Ok, so now we officially have evidence that Tiger Woods new child, Charlie Axel, exists (see photo here), in this adorable family photo. Plus, Tiger will supposedly be ready to play any day now.
So, friends, I announce that it is now time to begin speaking of Tiger Woods in simply golfing terms. Enough with the knee, enough with the baby. Now it's time for all Tiger, all the time. So let me begin:
Ahem. Tiger Woods will win the Masters.
I think that about covers it. And for any of you that will be struggling to go cold turkey on Tiger's personal life, here's a picture of a labradoodle - the same type of dog Tiger and Elin have. I believe it's name is "sniffy." Or something.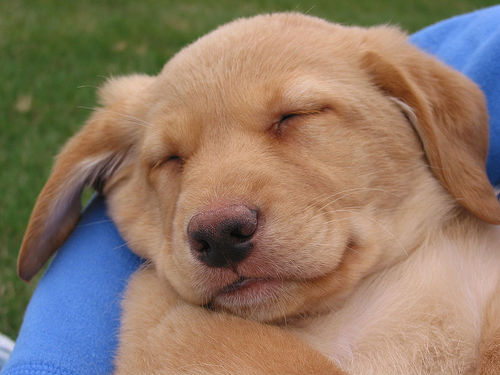 But seriously, now it's all about golf.
–WKW
5 comments
Comment
from: putt4par [Visitor]
Woods returns to the tour.U heard it here first, lol
Actually, Golfgirl did the Tweet on this.
http://www.pgatour.com/r/tiger_archive/index.html
02/19/09 @ 17:38
I think there's a different but equally adorable family contemplating the acquisition of a labradoodle.

I wonder if Tiger will influence on the selection of the Presidential pup. ;o)

Oh, and tkx putt4par.
02/22/09 @ 13:40
Comment
from:
The Official Golf Guide
[Visitor]
I'm just glad to see him back. What is this big deal about these labradoodle's?
02/23/09 @ 17:14
The only men that use "licked" in a sentence are fruit booties and rump rangers. Take your pick
03/05/09 @ 09:40
I like Melanie Hauser's take on Tiger's return to the PGA Tour:

http://www.pgatour.com/2009/r/02/19/hauser_return/index.html

03/05/09 @ 18:15
Comment feed for this post
Comments are closed for this post.