Dear New England Patriots fans: hope you enjoyed your Whammy
Personally, I wish it had never come to this. I was just a down-on-his-luck golf writer, going about his business, trying to cash in with a humorous little ditty about how I found the New England Patriots much more annoying than Tiger Woods.
And then Patriots fans had to get all hysterical.
So I put the Whammy on them. From last week, if you recall:
In the end, I find the humorlessness of these Patriots' fans to be unacceptable. So, you know what? I'm hereby putting the Whammy on New England. That's right, the Whammy. The Red Sox were enough for you folks, at least until you start showing that you can be as good of winners as you were losers for lo those many years. And don't start getting your hopes up over the Celtics, either. They're included. It's an all-purpose whammy.

New York Giants fans, thank me now. Eli Manning will channel Peyton, throw four TDs, the second-greatest Super Bowl upset in history will take place on Sunday, and Tiki Barber will feel like a real tool. The Giants will win the Super Bowl.
I don't want to gloat, because that's not the kind of guy I am. But I do want to say this - not only did my Whammy work as expected and change NFL history, it left droves of New England fans heartbroken. Now, while I feel sorry for Pats fans who are likely wonderful people, I have no pity for those that can't take a joke. Hence, the Whammy.
So remember folks, you mess with the bull, you get the whammy.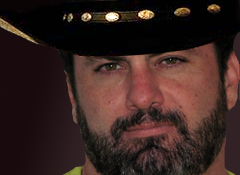 –WKW
3 comments
LOL!

Could you please put an "Un-Wammy" on ALL of Cleveland's teams?

Please? It would be much appreciated.
02/04/08 @ 10:35
Comment
from: Mercury Morris [Visitor]
U da man, WKW!
02/04/08 @ 10:43
Comment
from:
William K. Wolfrum
[Member]
Could you please put an "Un-Wammy" on ALL of Cleveland's teams?

Ah, sorry Blue Girl. I don't believe anyone has that type of power.

Bill
02/04/08 @ 10:55
Comment feed for this post
Comments are closed for this post.