Golfer Supremacy Rankings salute Brittany and Boo and hope the game doesn't go to the dogs
Sometimes the world of pro golf can be terribly unfair, and we here at the Golfer Supremacy Rankings are proud to be a part of the unfairness of it all.
Nonetheless, we are a "winning-comes-first" rankings system, and we don't care who folded to get a player that win. You may complain that players like Morgan Pressel and Brittany Lincicome are winners just because others failed, but we just consider them winners.
Golfer Supremacy Rankings
1. Brittany Lincicome

Comments: The winner of the 2006 Women's World Match Play officially showed it was no fluke by hanging tough to win the Ginn Open. While the bigger story from the event is Lorena Ochoa's collapse (playing the final six holes at 6-over) and failure to overtake Annika Sorenstam as the World's top female player, let's not overlook Lincicome. The 21-year-old shot 72 on a day that just one player broke par, and players like Laura Davies put up 79s. No matter how she's gotten there, Lincicome is a deserving two-time winner on the LPGA Tour.
2. Boo Weekley

Comments: There are still some holes left to be played at the Verizon Heritage, but one can't help but pull for a boy named Boo. Weekley missed a three-foot putt for victory at the Honda Classic, then took a two-shot penalty at the Arnold Palmer Invitational, for illegally tending the flag to help out playing partner Tom Johnson. Weekley may not win the Verizon Heritage, but the fact that with six holes to play he's on top of the field needs to be looked at as a victory for the 33-year-old, who will be one of the PGA Tour's money list leaders regardless of his finish.
3. Craig Ammerman

Comments: Ammerman is calling it quits after spending five years on the U.S. Golf Association's executive committee. For Ammerman, it was a true labor of love that saw him spend up to 100 days a year on the road and fork out $20,000 out of his own pocket for travel expenses.
"It's like having a front-row seat in the game," said Ammerman, 59. "I am eternally grateful for the opportunity."
The world of golf is better because of the efforts of those like Ammerman, and the Golfer Supremacy Rankings thank him on a job well done. Ammerman had this to say in regard to the growth of the game:
"Play has been down in five of the last six years. The problem isn't that fewer people want to play. The problem is the world has changed; people are stretched to the max. Golf has to find a way to let people enjoy the game in a way that fits into their schedules and lifestyles."
There was no word on whether or not Ammerman agreed with the rumored new USGA PR Campaign of "Golf, or the Dog Gets It."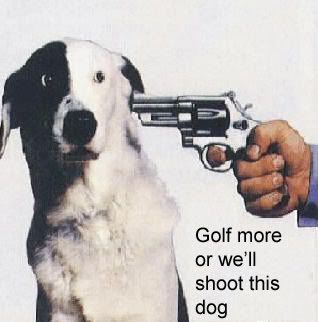 Random Factoid: Following his breakthrough Masters triumph, Zach Johnson had a solid week at the Verizon Heritage, and only a complete collapse will keep him from notching a Top-10 finish. There has yet to be any word on what Jesus has contributed to Johnson's play over the weekend, however.
–WKW
5 comments
Comment
from:
Anthony Urquhart (PGA Punter)
[Visitor]
Spot on with Boo William K. Nice one.
04/16/07 @ 15:13
Comment
from: Oui Oui Oui [Visitor]
Hmmmm....A joke involving shooting something given what transpired today at VT...Bad timing.....

Boo Weekly's close cousin 'Poop Daily' must be proud of his achievement today....
04/16/07 @ 17:37
Comment
from: Dave Marrandette [Visitor]
As a pet owner, that is offensive!
04/17/07 @ 09:18
Comment
from: Very surprised [Visitor]
In my humble opinion, she won because she played well enough to win, and being there put her in contention, not others missed putts or fairways as you contend. So what has her winning got to do with the game of golf going to the dogs, in your opinion she is a dog? They all had a chance, but she played better. She had just 27 putts in 18 holes, that is why she won because she played well, she played well and deserved to win. Since you are so good at making these remarks as stated at the start of this post about others achievements and being paid because you make them, just what have you done better than any of the people you minimize and cut down? This is not a personal assault, I googled you, and could not find your big achievement(s) other than this web site, but I must admit, I only checked 2 browser pages back and lost interest. Google Brittany Lincicome, her achievements show up right from the first page and continue for many more pages. Did you set some record, or won the Pulitzer Prize for journalism, maybe something, but then maybe nothing huh, no great achievement or award, just spewing out words on a web site, making others achievements seem less important, great job if you can slip under someone else's achievements and write about how they connived to get where they are. Anybody reading these comments that agree with you on the game of golf going to the dogs because she won should try to make it to the level she plays. Work your way through Q school and then have people saying you took the win because so and so deserved it, but made a mistake and you slipped in and took the glory. I read she baby-sat during her rookie year, no event after miserably played event sponsor exemptions, and no multi-million payouts that actually surpassed the #1 in golf's winnings and sponsor endorsements by 7 million while not even winning a single tournament (boy is that an achievement, shame on us all). All of these girls and guys for that matter on tour are there (except the one getting all the breaks because of the money her sponsors see of course) because they earned the right. If they win it is because they were at the top and poised to win because talent, not because someone missed a putt, that is going on throughout the entire tournament all the way back to the last place player. Missed putts for the win have been happening throughout golf's illustrious history, you play your own game, and if you win, it is because you deserve to win, and because the others did not play well enough to beat you. So I didn't see any slipping under to win, golf going to the dogs, I saw a young player take the victory though strong play, for that she deserved the win, if Ochoa didn't take the # 1 spot, that's not the real story here or the big story, its just another story. Just like another story where Laura Davies fought hard, but not winning or the story of the amazing golfer Nancy Lopez trying to restart her career. The true story at the Ginn was Brittany Lincicome, because she beat them to win, she deserved to get the credit for what she accomplished, not to have writers saying because she can slip under to win the games gone to the dogs. Of course you don't have to agree, but at least you have something new to write about.
04/18/07 @ 02:51
Comment
from: Had to pipe in [Visitor]
Very Surprised,

What article did you read? The whole point of the Lincicome piece was that she deserved the wins, regardless of how she got them.

And there was no mention of golf "going to the dogs." Seemed like WW was joking about the USGA blog to me. No connection to Lincicome.

SL
04/18/07 @ 10:07
Comment feed for this post
Comments are closed for this post.