Ron Mon golfing 100 holes to fight cancer - let's help him
More often than not when I leave the house, some paparazzi type will approach me and start asking questions about TravelGolf.com blogger Ron Mon. In such instances I'm normally left with no recourse other than to beat said paparazzi type within one inch of his life. Because life is measured in inches, feet and yards, and don't you forget it.
Because Ron Mon transcends the game. While us mere mortals peck away at the keyboard, hoping some bored reporter in Pawtucket will use one of our quotes and link to us, Ron Mon is creating long, one-paragraph masterpieces with nary a hotlink.
But alas, I'm not here to talk about Senhor Montesano's writing style. No, I'm here to talk about something he's doing. Because it appears that in June, Mr. Mon will be golfing 100 holes in one day. And then he'll leave this terrestrial plane. Because he's old and the odds of him surviving this stunt are as thin as Chris Baldwin's hair.
But Mon is willing to risk his life for charity, so at least he's giving his all for a good cause. It seems he's looking to be one of several duffers to use the stunt to raise $5,000 for raise for critical research and patient care for Carly's Club Kids & Cancer Research, founded at Roswell Park Cancer Institute, one of the nation's top comprehensive cancer centers.
Because cancer touches us all … [Insert three-or-four touching and preachy sentences here about why everyone should pony up] … and if you don't give to this cause, you're a bad person, period.
In all honesty, however, I'm able to be cheerful because of the work cancer researchers have done over the years. With my parents visiting my wife and I, our thoughts often go to a year ago, when my mom underwent two operations and six rounds of chemotherapy to destroy the ovarian cancer that was bent on destroying her. It was a tense, emotional time that involved lot of pain for my mother. But now she's healthy and happy because of the offerings others made in the past.
So now, it's our turn. Roswell Park is a comprehensive cancer center that improves the lives of many. Let's help them go above and beyond. Because on a daily basis we hear about the "American way." Well, there is what the American way really is - Americans helping Americans, and taking the lead in medical research. Let's help Ron Mon hit his goal. Because when it comes to cancer and other devastating disease, often life is measured in dollars and cents.
To find out more about Ron's efforts, click Here. To donate, click here, or send a check or money order to:
Carly's Club, Roswell Park Alliance Foundation,
Elm and Carlton Streets
Buffalo, NY 14263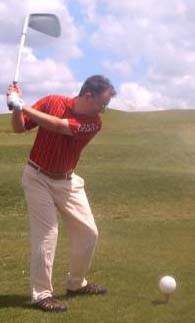 That's a regulation-size golf club and ball - in truth, Ron Mon is just 27 inches tall.
–WKW
1 comment
Sniff, sniff, you had me at "more often than not..."

Actually, the fight against cancer transcends my idiocy, which lends some legitimacy to my name. Thanks, Bill, for this blog.
02/16/07 @ 11:00
Comment feed for this post
Comments are closed for this post.