An important tip for all golfers: Beware of rugby players
As a longtime sports writer, I'm pretty well versed in all athletic endeavors from around the globe. Take rugby, for example. Rugby is a sport that I've studied, long and hard, for the several minutes since I came up with the idea for this blog.
While the game looks complicated, that's due to the fact that it's played mostly by Australians and New Zealanders, who make everything look more difficult than it really is. In truth, however, Rugby is a thrilling game, based on simple rules.
Rugby Rules & Facts
1. Up to 14 teams and 428 players can compete on the field at the same time during a rugby match.
2. Every team scores on every play.
3. Play is only stopped when a player is found to be dead, but then only if he happened to die on top of the ball.
4. You don't really need a ball.
5. Some "scrums" can last for up to a month at a time.
6. Everyone who plays rugby can kick a ball 300 yards (metres) through a tube if you dared them.
7. They play rugby in the Unites States, but no one has any idea why.
8. All rugby players are, or were, cannibals.
9. All rugby players are forced to wear shorts that make everyone else feel uncomfortable.
Now, we had a game sort of like rugby in grade school. It was called "Smear the queer" We were young and naïve, and there were no PC guidelines those days, you see. I am sure they now call it "Smear the Sexually Diverse Person."
The rules of the game were as follows: Someone gets the ball and everyone else completely obliterates that person.
There are no points, no sidelines, no out-of-bounds, no anything. One kid gets the ball, the rest of the kids chase him down. If the kid with the ball throws the ball away, in an effort to have people stop chasing him, he is then creamed much worse and with malice.
To recap: Kid gets ball, kid runs like hell, kid is gang-tackled. Repeat as often as possible, until the game has to be stopped due to excessive compound fractures.
So I totally understand that rugby players likely have a hard time dealing with society after spending their formative years massacring someone with a ball and eating them while wearing suggestive shorts and kicking balls through tubes. Thus, it makes sense that one-time Australian rugby star (you are considered a "star" in rugby if you maintain life) Terry Lamb, recently had some trouble at a golf course in Syndney.
It seems the player in front of Lamb was playing too slow, so Lamb did what years of training taught him - he clobbered the guy. The two brawled all over Cabramatta Golf Club for a while, until they were finally broken up, and charged with "acting like rugby players."
What does this all mean to you, the easygoing golfer? Simple: If you find out there's a rugby player on the course near you, get the hell out of there. These are not men to be trifled with. They are obviously prone to flashbacks anytime they see grass and people wearing silly pants. Just something to keep in mind.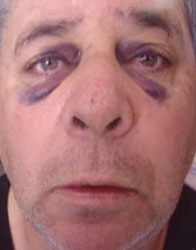 Rugby star Terry Lamb, here seen doing his best impersonation of the GOP.
–WKW
5 comments
Comment
from:
Anthony Urquhart (PGA Punter)
[Visitor]
"It's played mostly by Australians and New Zealanders."

And the odd South African perhaps? With the occasional outing by the Argentinians? And possibly the odd performance from the Romanians, Italians, French, Scots, Welsh and, oh yes, the current Rugby World Cup Champions England. That'd be the country where the sport was born, at a school, in a town called Rugby as it happens.
11/10/06 @ 19:30
Comment
from:
William K. Wolfrum
[Member]
Senor Punter,

Thanks for the interesting facts. Hey, I hear England is where football was born, also. The English must win a ton of World championships at what we Americans so crudely call "soccer." Right?

--WKW

P.S.: Ever Google: "1950, U.S., England" (without quotation marks, mind you)? I'm sure you have ;)
11/13/06 @ 07:09
Comment
from:
Anthony Urquhart
[Visitor]
William, or may I call you Wild Bill?

So sad you have to dredge up obscure facts from the dustbin of history in this manner. While it is true we have not won too many World Cup Championships, I think it is not unreasonable to point out that we have won one more than the Americans, possibly because you guys have never quite been able to grasp what the actual world championship concept is all about.

PS: I'd prefer if you didn't google last weekend's rugby results, especially England-Argentina. It's not a pretty sight.
11/13/06 @ 18:44
Comment
from: G Turner [Visitor]
A couple of thoughts after reading your post

1. Soccer is a gentlemans game played by hooligans whilst rugby is a hooligans game played by gentleman

2. Rugby is like NFL Football, but for real mean


3. Rugby is a 80 minute game that takes 80 minutes, not a 60 minute game that takes 3 hours and a Janet Jackson boob show.


4. The first (and last) Olympic Gold winner at Rugby was.... wait for it.... The USA


5. Rugby is played by men all over 220lb who can all run the 100m in under 12 sec and do it for 80 minutes without an advert break or change of team.


6. Rugby players can attack and defend... multi skilled!


7. Like golf, sportsmanship is held in high regard and fans are always happy to clap the opposing team.


Try and catch a few of the games, especially now that we are getting to the Quarters & Semi Final time



PS - Ask Ernie if he would trade a US Open title for a chance to play just one Rugby Test match for the Springboks!

In Wales, New Zealand & South Africa, rugby union is religion.

In Australia it sits behind Aussie Rules & Rugby League. In France, Scotland and England it sits behind soccer and in Ireland it is second to Gaelic Football!


Anyway, writing this during the Friday Betterbal of the Presidents Cup. Again, a great event ruined by the most boring commentators... YAWN





09/28/07 @ 14:20
I'm completely agree with G Turner
11/18/07 @ 14:42
Comment feed for this post
Comments are closed for this post.