Tara Reid's stomach: Proof that golf can go with everything
The diehard golfer can fit golf into any discussion. From the gross domestic product of Peru (Did you know the Peru State women's golf team is hoping for big things this spring?), to Agamemnon's performance as Greek leader in the Trojan war (I'm not sure if Paul Azinger is Greek, but he'll be a fine Ryder Cup captain), there are few conversations that a golfer can't maneuver to the topic he holds most dear.
Even actress Tara Reid can't help bringing up golf when discussing the horrific things she has done to her once-pert body.

"After I got liposuction I got these bumps, like little golf balls all over my stomach, and it hurt," Reid proclaimed on the Today Show.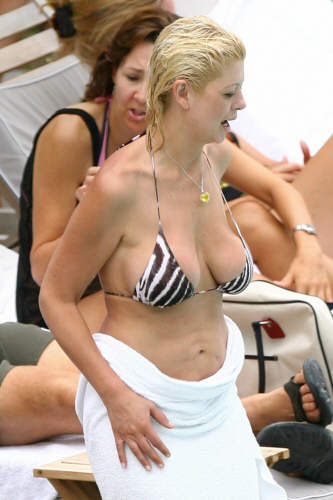 Tara Reid: Is going from B-list actress to plastic surgery cautionary tale a step up or down?
Let me take a wild stab at this one: Were those golf balls, by any chance, Noodles?
Golf. It works in every conversation. Sadly, however, thanks to Ms. Reid, now I have little golf balls inside my stomach. And they hurt. Dear Lord, how they hurt.
–WKW
1 comment
Lol, you trying to be funny makes you just look like a huge asshole. Not defending anyone you're just horrible at making fun of people.
11/28/08 @ 17:23
Comment feed for this post
Comments are closed for this post.