Golfer Supremacy Rankings making like Tiger Woods and taking the show on the road for big bucks, while we're allowed
The Golfer Supremacy Rankings have spent every morning of 2006 waking up early, feeding the pigs, and then making sure our workers pick only the most aromatic beans in order to make sure you, the golf rankings aficionado, has the finest, most flavorful golf rankings we humble farmers can produce.
That being said, we figure it's time to take a little "us" time, and cash in on our success. We currently have standing offers from China, Mozambique and Swaziland to do some exhibition rankings of golfers, and we look forward to the trip.
We here at the GSRs are planning on traveling now, because we know that starting in January, everyone traveling into or out of the U.S. will need pre-boarding permission from the U.S. government to make sure you aren't a "High-Risk Passenger." Now, while we at the GSRs are as all-American as Rev. Ted Haggard, we're aware that our overriding opinion that all politicians are, at their essence, worthless authoritarian pinheads, may put us on some radar screens of said politicians. So better to travel now.
But if truth be told, all we've ever wanted was to create a golf rankings system you could be proud of. If The State needs to spy on our phone calls, tell us whether we can fly or not, find out our search-engine queries, take away our habeas corpus, and waterboard us into submission, we're fine with that, so long as we're still allowed to rank golfers the way we deem fit.
So we look forward to our upcoming star-studded 2006 Golfer Supremacy Awards Blog, as well as the 2007 golf campaign, and believe some time to get our head and emotions straight (and collect huge appearance fees) will make us an even more potent golf rankings system in the future.
Golfer Supremacy Rankings
1. Tiger Woods

Comments: Woods finishes off the 2006 season where he began it - on top of the golf universe. Tiger dealt with the death of his father, and then gave Earl Woods as good a going-away present as he could find - winning six straight tournaments including two majors. The year could have ended better for Woods, who was part of the U.S. team that was destroyed in the Ryder Cup. Nonetheless, a great year for Tiger, who for some odd reason decided to say "screw you" to his multitudes of U.S. fans by blowing off the Tour Championship fluff tournament, to travel to China and play at the fluff HSBC Tournament of Champions instead. So, we also learned this about Tiger Woods in 2006: Huge appearance fees make him feel much less mentally exhausted.
2. Adam Scott

Comments: In a year that saw just about every Australian from Rod Pampling to John Senden travel to the U.S. and win PGA tournaments, it was only a matter of time until the player many consider the best of the Aussies finally put his name on a trophy in 2006. The wait was worth it for Scott, who put together four stellar rounds to make the Tour Championship his personal playground. There's likely no truth to the rumor that all Australian golfers will have their visas to the U.S. snatched from them for 2007, but American golfers not named Eldrick should hope that's the case after the sound thrashing their Aussie counterparts gave them in 2006.
3. Karrie Webb

Comments: Webb stomped the field at the Mizuno Classic, ending Annika Sorenstam's domination there and making Webb a true road warrior, with her five victories coming on three continents, none of them being her home of Australia. Webb has some work left if she wants to pass Lorena Ochoa on the LPGA money list, but no one can take away from her what has been a magical 2006 season for the World's one-time (and very possibly future) No. 1 female golfer.
4. Paul Tracy

Comments: The Champ Car driver will likely require government permission from now on when he decides to jump into a golf cart. At a party in Las Vegas, Tracy got all liquored up. And while booze causes some to hate jews (Mel Gibson), some to accept bribes in bulk quantities (Bob Ney) and others to lust after 16-year-old boys (Mark Foley), for the majority of us, it just makes us do stupid things. Like trying to jump stuff in a golf cart like Tracy.
"I was at a party and had a little too much to drink, and we thought it was a good idea to go out on a golf cart and try and jump some sand dunes with it," Tracy told the Toronto Star after breaking his shoulder blade, likely ending his racing season.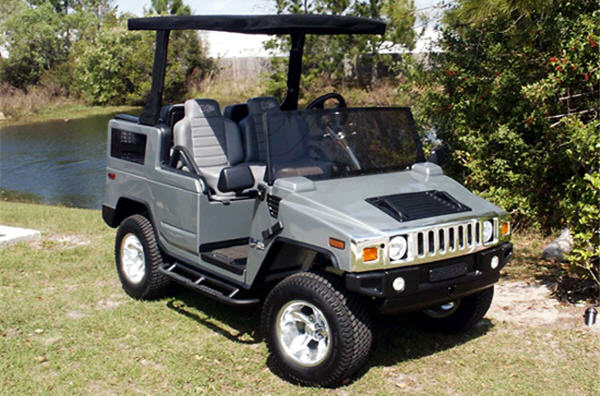 Have confidence issues and want everyone to know it? Buy a Hummer golf cart.
Random Factoid: For those who want their golf carts to say "Hey, I've got more money than you, and my golf cart can eat your golf cart," we at the Golfer Supremacy Rankings suggest plopping down the $20,000 or so it will cost to get a fully loaded H2 Hummer Golf Cart. Finally, men who like to advertise the insecurities they have with their virility, can take their charade to the golf course.
–WKW
1 comment
I need a hummer golf cart but not for golf i need it to do other thigs like going out to parties to show my friends the new masterchiff so i'm asking you to sell it to me for a real low price because no afance i'm only 12years old this year and i just turned 12 on tuesday the 10 of April and i was borned in 1995 so i'm asking you to pleace sell itto me for a low price like you $20.000 maye if you think to $100.00 and pleace e-mail me on aj_ambruse@yahoo.com.au
04/14/07 @ 20:19
Comment feed for this post
Comments are closed for this post.