Tim Finchem shows his pain while Tiger Woods tries to maintain some Privacy
While Tim Finchem does his best to show the sporting world how truly impotent his position as PGA Tour Commissioner is, Tiger Woods and Phil Mickelson are enjoying their privacy.
"I'm disappointed, candidly. There's no other way to characterize it. I'm disappointed," Finchem said about Tiger and Phil not playing in the Tour Championship this week, a move that takes a healthy layer of luster from the event.
Finchem, who has about the same power to shape the world's view on golf as John Kerry has to shape the world's view on Iraq (Answer: Not much), probably felt good letting off some steam on the current case of the missing Tiger and Lefty, but aside from that accomplished very little. In the golf world, there is currently just one 800-pound gorilla in the room, and his name sure as heck isn't Tim.
So Tiger will continue getting his mind in order so that he can play in some easy-money tournaments in Asia later this Fall. Until then, Woods will enjoy his Privacy. That would be his yacht, Privacy.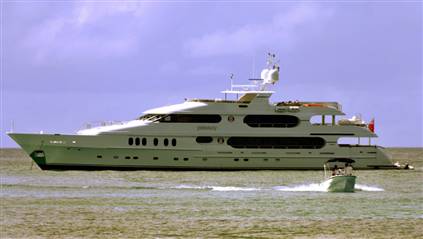 Tiger Woods' yacht is the most Privacy anyone can really expect, it seems.
As for his actual privacy, Tiger must have a heck of a time maintaining it, being both a superstar athlete, and an American. Because while every American from George W. Bush ("The good thing about Vice President Cheney's advice is, you don't read about it in the newspaper after he gives it.") to Fred the plumber likes the idea that they have a private life, few actually have one, it appears.
A recent study shows that U.S. privacy protections rank among the worst in the democratic world. in a ranking of 36 nations, Privacy International found that the U.S. ranked on par with nations like China and Russia when it came to protecting its citizens' privacy.
With privacy looking like a thing of the past and a press that now ranks as free as press corps from Botswana and Tonga, one does start thinking that those that hate us for our freedoms should get better informed.
Nonetheless, the U.S. press has proven to be stellar when it comes to stalking celebrities, at very least, so while Finchem impotently bemoans the lack of his stars' presence, at very least he'll know what they are doing while not playing in his tournaments.
–WKW
No feedback yet
Comment feed for this post
Comments are closed for this post.