Ask a Ninja to find the answers to life's big questions, from golf to physics
If anyone asked me, I'd tell them to take the St. Louis Cardinals in six games in the World Series. Mainly that's because it seems like Michigan has enough on its hands right now to have Detroit get set on fire again due to a sports championship.
Of course, no one asked me. People do ask Ninjas plenty of things, however, especially on the video podcast, Ask a Ninja. On a recent episode, a ninja was asked if they played miniature golf. They don't, of course, but they do play "niniature golf," which "has some parallels to miniature golf" but the ninja wouldn't recommend it for a fifth birthday party.
Like all things ninja, niniature golf is not just a physical game, but a game of mind and spirit.
In a niniature golf course, they don't have the astrocarpet," explained the ninja. "The turf is made up of bad memories. So the longer you spend on a whole, the worse your life seems."
There are plenty of wacky obstacles in the game that are deadly but fun, and include a 400-pound, abominable orangutan that spits ice cubes at golfers lining up their putts. "You get winged by an ice cube by a giant frozen primate, you feel that," said the ninja.
The Ninja has answered other questions, ranging from summer jobs to physics and net neutrality. Take a look for yourself at one of the ninja's videos at Askaninja.com.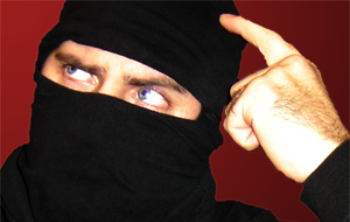 There are many questions in life. Luckily, the ninja has answers.
–WKW
No feedback yet
Comment feed for this post
Comments are closed for this post.