Great golf and burgers outshine dorks on cell phones and stupid logos in the good ol' USA
Smack dap in the middle of my four-week stay in the U.S. after an absence of two years, I've had great times becoming reacquainted with some of the things I've missed about this great nation of ours.
Like the "Double Double" I enjoyed at In-N-Out last night. Let me tell you, that right there is some American Cuisine that'll bring the tears to your eyes while it takes the gout to your feet.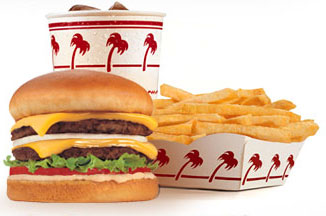 The typical In-N-Out meal. I'm getting emotional just looking at it.
Or there's my renewed love affair with smacking a golf ball, especially at insanely nice courses like LakeRidge Golf Course and its mind-blowing 15th hole.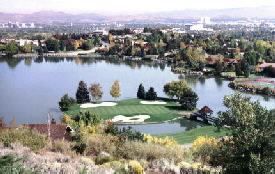 No. 15 at LakeRidge in Reno. I went into the drink just right of the green.
Sadly, this whole trip hasn't just been a non-stop burger-eating, fabulous par-3-playing extravaganza. There have been a few things that I must say I have found annoying.
1) Those stupid cell phones people insist on wearing in their ear at all times, as if they are way too important to miss any phone call. Today at the airport, I happened to see an extremely annoying guy talking to himself quite loudly. Then I realized that he was actually on the phone, discussing some business deal.
Hint: If you can talk loudly in public about your business, it's obviously not that important. You can miss a phone call.
2) The Grand Sierra Resort and Casino in Reno. It used to be the Hilton, and they really didn't change much, so maybe it's a fine place to gamble or stay for a night, but what really got to me was their logo, which they slapped on the side of the building.

Nothing like an incomprehensible logo to drive lodgers your way.
Now, it wouldn't be so bad if on the side of the building they also had the words "Grand Sierra Resort" on the side of the hotel, but they don't. Just that lame "GSR" logo. And you have no idea what it means until someone tells you. I was thinking of stealing it and using it as the logo for the "Golfer Supremacy Rankings," but that whole blog seems to confuse people enough as it is.
In all seriousness, however, standing alone, that logo is the dumbest thing I've ever seen in my life, and I grew up watching "Fantasy Island." I'm actually starting to get angry just writing about it.
3) Starbucks. Dudes, we get it. You make coffee drinks and scones. How about spacing out your stores to say, oh, one every eight feet, build a couple less and give a raise to those poor saps that have to enunciate "Americano Espresso Macchiato" 1,200 times a day?
Honorable Mention: Chris Baldwin. I feel pressured to hit the ball back over the net at him because I think he wrote something about me in his blog. I do feel bad for Chris because his hair has receded to the point that he now has a fivehead, and he thinks Tori Spelling is somehow topical.
So really, I only include him because it annoys me that he's one of those guys that seems to think "Stay the course" and "We must be victorious" are actual war strategies of some type.
–WKW
5 comments
Comment
from:
Chris Baldwin
[Member]
Yeah, Starbucks. There's a lot of them. Cutting edge stuff as usual Grand K.

Just use your proper title with pride - the Best Political Hack Thinly Veiled as a Golf Writer.
10/20/06 @ 01:01
Comment
from:
Brandon Tucker
[Member]
Bill, the thing I miss most about America is:

32 oz. Dr. Peppers, stacked to the top with ice and free refills. When you order a Coke in Europe, it comes in an 8 oz. glass with one ice cube and its usually at least 2.50 Euro. I hate having to ration my sips so I can have some left by the time my food arrives. Drives me nuts.

And I agree about the ear phone things. Great, you can talk without the annoyance of putting your hand to your ear. Instead you look like a robot.
10/20/06 @ 10:40
Comment
from:
Kiel Christianson
[Member]
Whenever I'm away from the States for a while, the things that strike me are:

1) The enormity of everything, including the numerous obese people.

2) U.S. obsession with hydration (a la Brandon's comment above). OK, I know water is good for you, but must we carry gallon jugs around with us all day, sipping icessently from them? Live in Europe or Asia for a while, and you see people drinking coffee, wine, beer, tea, and only now and then water (often sparkling). Either their pee is the color of ripe bananas, or, by golly, we just don't have to worry quite so much about hydration. Not that it's bad -- lots of places where people are dying for lack of water, obviously.

3) Yes--those cell phones. I make a point of listening to people while they're talking, often nodding, chuckling, shaking my head, etc. In doing so I've learned two things: First, 95% of what people are talking about is utterly banal. Second, they seem to take offense at someone listening to them holler into a phone in a public place. Curious, that.


10/20/06 @ 11:38
Comment
from:
Tim McDonald
[Member]
And the damn coffee cups. I hate them. They're too damn small and you have to hold them with your pinkie sticking out, and that's never a good idea.

Give me a lumberjack mug big as a bucket, fill her with steaming black joe, and stand away from me.

And the damn electrical outlets. I don't mind that they're different from the U.S. But, they're different from each other, often in the same damn room. What the hell is the point of an adapter?




10/22/06 @ 17:24
Dammit, you mean I finally have something in common with Old MacDonald (coincidentally, the name of the fourth course at Bandon...)? Man, do I love a gigantic mug of coffee. Trucker slams, I call them. Actually, I don't call them that...I just made that one up on the spur of the moment.

If you didn't miss the states, you wouldn't be in Europe.

By the way, Wolf, the logo for Grand Sierra Resort is totally comprehensible. It took me all of two seconds to make out the G, the S, and the R, which correspond to Grand Sierra Resort. Read some Lemony Snickett books to brush up on your deciphering.
10/22/06 @ 22:16
Comment feed for this post
Comments are closed for this post.