Criminal Bob Ney the latest politico to learn its best to pay your own way to golf destinations like Scotland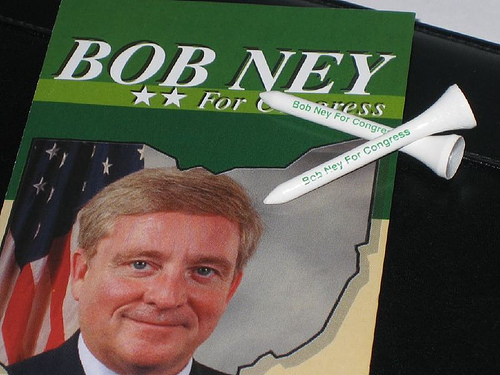 Golf played a part in Bob Ney's re-election efforts, and now is part of the reason his new home will be a cell.
The only way the game of golf could do more damage to politicians these days was if it was, in fact, a nubile and alluring 16-year-old boy working in a Capitol back office somewhere.
Golf, which rose up and started slaying those that would abuse it with the help of former lobbyist Jack Abramoff, has been on a particular roll of late, with today being the day it landed it's biggest fish.
Today, Rep. Bob Ney became the first lawmaker to confess to crimes in the Abramoff scandal, pleading guilty to conspiracy and making false statements, after acknowledging selling his vote, his legacy and his soul to Abramoff in exchange for gifts that included golf trips to Scotland.
Ney - who will be spending at least two-plus years in prison - recently entered an alcohol rehabilitation program, which now means that being an alcoholic causes one to beanti-semetic, to lust after teen boys, and sell your vote to the highest bidder, among myriad other things.
Ney won't, however, resign his position in the House of Representitives, likely due to the fact that it's such a great place for alcoholic criminals.
Ney is just the latest to be ensnared in Abramoff's scandal, in which golf trips were dangled in front of lawmakers helpless to avoid their allure. Others taken down include:
Abramoff, pleaded guilty and has been been spening his time with the feds, narcking on everyone, obviously pissed that President George W. Bush wouldn't admit to knowing him, despite having nearly unfettered access to the White House and its employees.
Two former aides to Tom DeLay – the former House majority leader who quit his position for being involved with Abramoff (among other things) – have pleaded guilty, as has Ney's former chief of staff.
Roger Stillwell, a former Interior Department official, pleaded guilty in August to a misdemeanor charge for not reporting tickets he received from Abramoff.
And former White House official David Safavian, who had been the Bush administration's top procurement official, was convicted of covering up his dealings with Abramoff. (Simple translation: "Top procurement official" means "Guy who has free reign over everyone's tax dollars.").
Also, Susan B. Ralston, a top aide to White House political director Karl Rove, resigned, with the administration citing a House of Representatives report examining her ties to Abramoff as the reason. Ralston will here on out be referred to by her new code name: "Scapegoat 20."
Also today:
"Five conservative non-profit organizations, including one run by prominent Republican Grover Norquist, "perpetrated a fraud'' on taxpayers by selling their clout to lobbyist Jack Abramoff," according to the Washington Post.
What does it all mean? Well, we are not here to judge, just to point out the facts. But we will leave you with one bit of advice if you happen to be a politician: If you really want to golf in Scotland, pay for the damned ticket yourself.
–WKW
2 comments
Comment
from: Oliver Sudden [Visitor]
Gerry Studds died today. He was formerly a democrat in the U.S. house who had admitted having a homosexual relationship with a teenage page. Did he resign back in 1982 when this happened ? Did he apologize for his behavior ? No to both, he was reelected many times. Alcee Hastings was impeached for perjury and bribery and removed as a federal judge. Is he in jail ? No, he is a democrat in the U.S. house. Democratic Rep. William J. Jefferson from Louisiana is in big trouble for accepting bribes. The FBI found $90,000 in cash in his freezer. Did he resign from congress ? No, like a typical democrat he said he did nothing wrong. Like your hero Bill Clinton said, just deny, deny, deny.
10/14/06 @ 22:30
Comment
from:
William K. Wolfrum
[Member]
Great, pertinent and timely points.

You know what I find interesting? That around the same time Studds admitted having that homosexual relationship, Ronald Reagan and Donald Rumsfeld and others were spending a good amount of time toungue kissing Saddam Hussein and giving him WMDs.

All depends on how far you want to go back to make points, I suppose.

--WKW
10/15/06 @ 00:25
Comment feed for this post
Comments are closed for this post.