Halloween costume ideas for golfers: The perfect mask for a golfer or an insane killer
So often the general public looks at this blog as just a showcase for the inane ramblings of a maniacal narcissist.
But nothing could be further from the truth, for two main reasons: 1) As I completely shun the general public, how the hell would I know, or even care, what they think, and; 2) This blog is endlessly filled with helpful ideas.
In keeping with that helpful thing, here is the first of what most likely will be dozens (or one) blogs on Halloween costume ideas for golfers.
So, with that in mind, it's my pleasure to present today's costume idea:
The Full-Face Golf Ball Latex Mask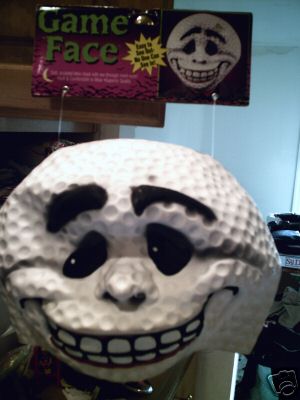 The Full-Face Golf Ball Latex Mask is perfect for golfers that just wish Halloween was over.
Yes, this mask, available on e-bay for the completely bonkers low price or $3.99, will delight your friends and show them that yes, you are in fact a huge fan of golf, and that no, in fact, you don't put much thought into Halloween costumes.
As an added plus, this mask will come in handy should you ever take on the hobby of murdering sexy teenagers down at the creepy abandoned youth camp next to the river.
Made from latex especially grown in the Australian outback, you can feel confident that this mask won't catch fire and leave you a hideously scarred freak the first time you walk by any type of heat source.
As the seller says:
This is great for the person who doesn't want to wear a full costume. Put the golf ball mask on carry a golf club or 2 and you're good to go!
Keep an eye on this blog for more great Halloween costume ideas for golfers! Or not. Whatever.
–WKW
1 comment
Gosh and golly gee, I hope you have lots more of these ideas, because this is really interesting.
10/05/06 @ 14:11
Comment feed for this post
Comments are closed for this post.