Golfer Supremacy Rankings refuse to resign after lurid e-mails, IMs are discovered
When word came out about Florida Rep. Mark Foley resigning in disgrace for being creepy with young male congressional pages, we here at the Golfer Supremacy Rankings felt a bit of déjà vu. You see, it wasn't that long ago that we had our own problems regarding a lurid e-mail and IM exchange with a co-worker.
Below is a snippet of the never-before-seen instant messaging that almost brought down the greatest rankings system known to golf.
Cheap Bastard: So, like, what are you guys wearing?

HotGolfRankings69: This seems really wrong. But jeans and a t-shirt.

Cheap Bastard: Do I make you horny?

HotGolfRankings69: Um, not really. You actually make us feel pretty icky. Would you let us get back to work, please?

Cheap Bastard: So, are you going to tell me who the No. 1 golfer is this week, or do I have to tickle it out of you?
That's all we can print. There was a big cover-up, an investigation, people were fired, but in the end, we all learned an important lesson: Like so many in Washington, the Cheap Bastard should change his first name to "Deranged."
Golfer Supremacy Rankings
1. Tiger Woods

Comments: After losing his last two events in somewhat humiliating fashion, Woods destroyed the field at the WGC-American Express Championship for his sixth consecutive victory. Ok, we're not totally positive how it all works, either, but we do know that by plundering the field to win by eight shots for his eighth victory of the 2006 season, Tiger has earned a well-earned vacation, where he will likely IM wife Elin unmercifully, if you catch our drift.
2. Glen Day

Comments: Six weeks ago, Day double-bogeyed the final hole to hand a victory to Kevin Stadler in the Nationwide Tour's Xerox Classic. Our advice to Day was that he hide in his room and sob for the remainder of the year, but Day showed the kind of veteran he is, firing a final-round 66 to finish in the top-5 at the Southern Farm Bureau Classic.
3. Mark Pilkington

Comments: Pilkington secured the richest first prize in the history of the European Challenge Tour with a fantastic victory at the European Challenge Tour's Kazakhstan Open.
Noted Kazakhstan reporter Borat called it a great achievement, especially in a country that has no golf courses. "Golf is so good, good like goat-milking," Borat reportedly reported.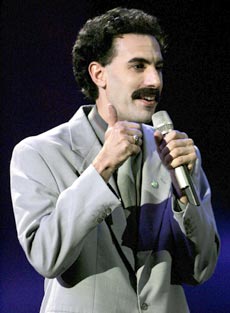 Kazakhstan reporter Borat was extremely impressed with Mark Pilkington.
Question: You did this earlier in the week, but could you just clarify now about the streak, how you would like us to consider it? Did it end at Wentworth?
Tiger Woods: Yeah.
Question: Or is it still going?
Tiger Woods: Yeah, it did. I lost two times between my five in a row and now, so yeah.
-WKW
1 comment
A) OCB (Ole' Cheap Bastard) was set up. Those aren't his key strokes. He cannot spell horny to save his life...word on the street, I mean.

B) Glen Day must love when Stadler wins in 2006. He has come in second to him twice. It may not be a piece of metal, but it's a solid payday for Speedy.

C) Goat milking is da' bomb (to use an outdated expression circa 200), Word on the pasture has it.
10/02/06 @ 07:06
Comment feed for this post
Comments are closed for this post.