Phil Mickelson drops out of PGA Grand Slam, putting finishing touches on a great collapse
Back when I was a child actor, big things were expected of me. Every blue moon someone will come up and ask "Hey, weren't you that kid in Bugsy Malone?" I'm forced to say yes, and the memories come flooding back. Mostly of what a little bitch Jodie Foster was.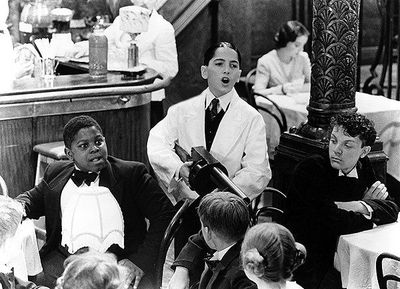 William K. Wolfrum (left) next to Scott Baio in the film "Bugsy Malone."
Anyway, it saddened me that my career tanked not long after. I did a guest starring role on "TJ Hooker" as William Shatner's illegitimate, long-lost kid, then several years later starred in an ill-advised German porn called "Wolf-RAM!" before giving it all up to go to golf blogging school.
So I know of what I speak when I talk of falling from grace, and let me just say, my descent was nothing near the collapse that Phil Mickelson went through this year.
Let's face it, Phil had a mind-boggling 2006, that has come to an end with him pulling out of the PGA Grand Slam of Golf in Hawaii, and telling the PGA of America that he is done for the season.
It was just April that Lefty blitzkrieged the Bell South Classic, then won the Masters the very next week. What we were hearing then was that the battle had finally been joined, that by winning three of seven majors, Mickelson was ready to make his rivalry with Tiger Woods a reality.
Then came hole No. 72 at the U.S. Open. And since Mickelson gagged away a second consecutive major, talk of the rivalry went from a debate, to a whisper, to now, a joke.
Whatever happened with Phil, it was drastic. He hasn't broke 70 in the final round of a tournament since the Zurich Classic of New Orleans, and finished the year with a brutal Ryder Cup experience that saw him go 0-4-1.
It will make for an interesting 2007 season for Phil, who went from being mentioned as the best in the game, to now a complete non-factor, unwilling to even show up for what's basically the Pro Bowl of golf.
Personally, I wish Mickelson the best and feel he'll be back to his old form in no time. And if not, well, there's always German porn and golf blogging.
–WKW
6 comments
Comment
from: Ford [Visitor]
That would be 0-4-1 for Captain Man Boobs.

09/28/06 @ 22:09
Comment
from: Merrin [Visitor]
I always thought it was always "Tiger Vs. the field" longterm. Not tiger Vs. David Duvall, Ernie, Vijay or Phil.

However, slumps happen. I dont expect Phil to hide in a corner forever. He'll be back in contention.
09/30/06 @ 20:36
Comment
from: InTheBunker [Visitor]
No, Phil will continue to hide behind his family--it's PC, keeps endorsement money flowing. He's wealthy beyond belief; isn't compelled to compete. He's content to "spend time with his family" when he doesn't feel like playing/working, and who will criticize that. Enjoy the banquet table Phil, see you 4 months.

Here's a guy who flys a private jet, has nannies up the wazoo, when he wins his family amazingly appears for the photo op--because they usually travel with him...but he need to spend more time with them.


10/01/06 @ 12:39
I am deeply annoyed with Phil for not having the guts to work harder at his game and tackle The Tour Championship and the Grand Slam of golf. This is perhaps evidence of why such a talented player took so long to win a Major. I guess he will be back to compete, but I will not respect him as a golfer. VJ, on the other hand, has performed below his standards for the last few weeks but is out there working on his game and dealing with his slump.
10/02/06 @ 14:22
Comment
from: jaypee [Visitor]
If you were to resume your acting career as a golf instructor, can I suggest a scenario ?

You: Phil, you really blew it when you won the Masters with 2 drivers.

Phil: How so ?

You: Well, since the Masters course is a much easier and more forgiving course for the driver, and since your game was at its best, you won and tought it was a brilliant idea.

Phil: So...?

You: At the US Open, during the tournament and specially in the last round, you realized (by hitting about 0 fairways) that introducing 2 different tools, and 4 possible trajectories and 6 adaptable swing paths, you could not commit to the shot. This all culminated into total confusion on the 18th tee. Too many variables.

Phil: What do you suggest ?

You: Go to your local discount golf shop, pick up a driver, go to the range and figure out what you can and cannot do with it and get back on the course. However, you can totally forget about being on the 18th tee, in a third consecutive major, in position for an easy win and to go for a fourth one. This will never happen again...

At this point in the scenario, someone from his sponsor team hits you from behind.


10/02/06 @ 16:57
Comment
from: Maria [Visitor]
Jodie Foster was a bitch? Really? She doesn't seem like it. Can you tell me a specific example of why she was?
By the way, I thought you were great in that movie, you could have been an amazing actor, I'm sorry it didn't work out.
11/23/07 @ 19:57
Comment feed for this post
Comments are closed for this post.