Golfer Supremacy Rankings honor an eye-popping Ryder Cup performance by Europe
The one thing that's made the Golfer Supremacy Rankings the most important and relevant golf rankings system in the world today is our unbridled enthusiasm and positivity. This makes up for our complete inability to add.
So while the rest of the nation spends its energy bashing the U.S. team for its performance at the 2006 Ryder Cup, we chose to look at the bright side of life. Sure, we could call the U.S. team a bunch of spoiled, slothful, uninspired, dumbbell, poopyheads, but where would that get us?

Instead, we try to look at positive performances by Americans. Like Chicago's Kim Goodman, who is listed in the Guinness Book of World Records as the World's No. 1 eyeball popper.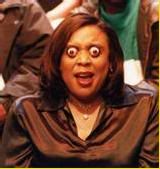 USA! USA! USA!
Golfer Supremacy Rankings
1. Team Europe

Comments: Let's face it, everyone and his sister is writing about how miserable the U.S. team was, so maybe it's time to give credit to Europe. These guys have this thing down to a science right now, as the last two Ryder Cups have just been muggings. So Europe, our hats are off to you. You now have eight majors to not win until your next Ryder Cup triumph.
2. Elin Nordgren

Comments: Faked or not, her photo controversy was the most exciting thing that happened to the U.S. team in Ireland, with Tiger's defense of his wife the most passion anyone on the U.S. side showed.
3. Karrie Webb

Comments: Does anyone else have the feeling that Webb would like nothing better than to play opposite the Ryder Cup every week? Webb won the Longs Drug Challenge for her fourth victory of the year. And while Webb seems to appreciate keeping a low profile, the LPGA continued its run of rotten PR luck, as the final round saw Annika Sorenstam shoot 65 to make a great run at the Australian. Not that anyone saw it, mind you.
Random factoid: Brazilian Claudio Paulo Pinto is looking to make a run at Chambers' World record. We're holding our breath. As is he, it appears.
Random quote: "There's nothing sweeter than beating the Americans." – Sergio Garcia.
–WKW
No feedback yet
Comment feed for this post
Comments are closed for this post.