Golfer Supremacy Rankings: Tiger Woods forces us to go the dogs
Hey, look, Tiger Woods won the Bridgestone Invitational. Again. That's four consecutive wins for the man we now refer to as "the guy who totally screwed up our chances to try out some Stewart Cink material."
Nonetheless, we here at the Golfer Supremacy Rankings do our doggone best to adapt. Even if it means going to the dogs.
Golfer Supremacy Rankings
1. Tiger Woods

Comments: Ok, we got nothing. Not a damn thing. We used up all our adjectives two tournaments ago. So, here's some information on the Labradoodle, the breed of Tiger's new puppy, courtesy of the Labradoodle Association of the UK:
Labradoodles are a popular crossbreed, resulting from the mating of either a labrador and a poodle (in either combination of male/female) or of two labradoodles or of a labradoodle and one of the root breeds (labrador or poodle). In the United Kingdom, in common with a number of other established and popular crossbreeds, they are not recognized by the Kennel Club nor regulated in any way. This situation is unlikely to change and there are many in the labradoodle community who are glad of it, believing that the status quo is in the best interests of maintaining a diverse and healthy bloodline.
2. Lorena Ochoa

Comments: Is it just us, or does Ochoa seem to get hotter with every new success? Maybe it's us. We've been known to have a thing for Latinas. Hot or not, Ochoa continued her sizzling breakout season on the LPGA Tour, tearing up the Tartan Fields Golf Club in Dublin, Ohio for a score of 24-under to win the Wendy's Championship for Children. It was Ochoa's third victory of the season, virtually assuring the Guadalajara native of player-of-the-year honors.
3. Alex Cejka

Comments: Cejka finished tied for ninth at the Reno-Tahoe Open, which should be enough to put him over the hump so he won't have to worry about Q-School this year.
But that's neither here nor there. What's important is this: He's of German heritage (like us), grew up in the Czech Republic (where our boss works), currently lives in Bullhead City, Arizona (a block from our parents), and had a very nice showing in Reno (where our sister lives). We (as a matter of fact, we do have a mouse in our pockets) thought that was a keen bit of coincidences.
Random factoid: Our crack team of informers (Dad) has informed us that Alex Cejka has one seriously kick-ass speedboat.
Random mind-blowingly cute picture of a Labradoodle puppy napping: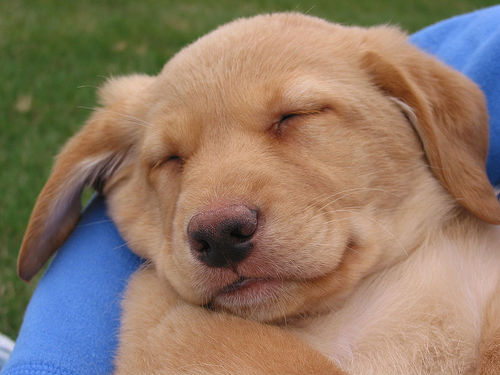 –WKW
8 comments
Remember that, during Ochoa's senior spring season in college for, I believe, Arizona, she won every tournament she entered but one. She did not win the NCAA individual title. Has she been on a victory roll before? You bet.
08/27/06 @ 22:04
Comment
from:
Kiel Christianson
[Member]
And Ochoa was very sweet to my daughter at the 2004 US Women's Open. Nice young woman all the way around.
08/28/06 @ 12:15
something that cute should be illegal.
08/28/06 @ 15:34
Comment
from:
Kiel Christianson
[Member]
If you're talking about the Labradoodle, it does verge on breaking the laws of nature....
08/28/06 @ 17:00
Comment
from: allison pretak [Visitor]
i want that puppy
04/25/07 @ 22:55
That is a very cute puppy! Seeing the name "Labradoodle" was very strange! Being the person I am I emidealty looked it up. Most of them don't look like that though! FUNNY!
11/29/07 @ 21:03
Comment
from: Devin Couch [Visitor]
how much for a pup like that
12/04/08 @ 18:28
Comment feed for this post
Comments are closed for this post.