Some facial hair options for Tiger Woods from "All About Beards"
I am exactly like Tiger Woods.
At least as far as facial hair goes. You see, like Tiger, I tend to fluctuate between being clean shaven or wearing a goatee. It's not so much of a style thing as it is the fact that I never quite fell into the habit of shaving regularly.
So I in no way begrudge Tiger his taste for trying out different looks. In fact, if beards were a reality for women, the styles of facial hair we'd see on the fairer sex would be various and spectacular. There would be a huge market for the fem-beard.
But while women must trod this earth beardless, many of them do have an affinity for the bearded male. My wife being one, though her interest in facial hair borders on fetishistic. Which means I'm currently in the beginning stages of growing a beard for her, because, as she made clear: It's not like it costs anything (Translation: "You WILL grow a beard.")
Which leads me to an interesting Web site. It's called All About Beards ("Growing better beards, worldwide - since 1996!") and it is the ESPN of the beard world.
Now, being that Tiger enjoys variation in regard to his facial follicles, I figured I'd mine the VAST resources at All About Beards to try and give him some ideas on future beard options. Normally, Tiger will go with a basic goatee, but a man of his imagination and talent needs to look deeper. Because, as they like to say at All About Beards:
"…the male beard communicates an heroic image of the independent, sturdy, and resourceful pioneer, ready, willing and able to do manly things."
So, Mr. Woods, you resourceful pioneer who is willing and able to do manly things, here are some suggestions: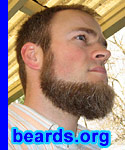 Also known as the Donegal, this look will help Tiger bring in a whole new audience - the Amish.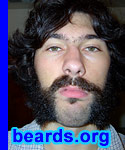 This beard will give the world a tasty and tempting look at Tiger's chin, keeping the sexy lower cheek area covered in man hair. Warning: If prone to constipation, avoid this beard style.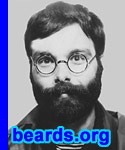 Should Tiger decide to start smoking a pipe, this beard would be the perfect compliment.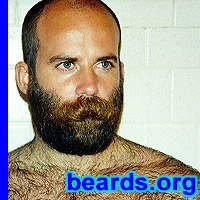 Finally, I would be remiss if I did not include this option, which is a perfect option should Tiger ever have the misfortune of having a beaver attach itself permanently to his face.
In conclusion
If you are a beard afficionado, I cannot recommend "All About Beards" enough. They have sections on beard success stories, beard galleries, beard styles and even beard videos. They have been around for a full decade, and like the manly bearded men that grace their pages, they only grow stronger.
And to Tiger, should you have any fear of experimenting with one of these styles, be brave, and think of these words from All About Beards:
Logically, the question ought to be: Why NOT grow a beard? it may require a bit of courage to take the decision to grow a beard. Once that decision is taken, it is easily reversed upon second thought. And another would-be beard disappears. When you see a man with a full-grown beard, you know he made the decision to be bearded and he had the determination to stick with it.
–WKW
3 comments
No dif between the original and the full beard. Every pore is occupied with a follicle moment.
08/25/06 @ 16:01
"But while women must trod this earth beardless..."

I think that's just a fairly recent fad.
08/27/06 @ 03:56
This is all very puzzling to me. It's obvious looking at side views of Tiger's face that he has very little facial hair. None of these options could he POSSIBLY pursue! The goatee + mustache is the first, second, third, and last option for him, and even then it might look a little scraggly. Not that this turned off any of Tiger's harem.
12/09/09 @ 15:19
Comment feed for this post
Comments are closed for this post.