The ultimate gift for golfers that have everything -- Seriously, everything
From eBay, for the golfer who has everything. And we mean everything: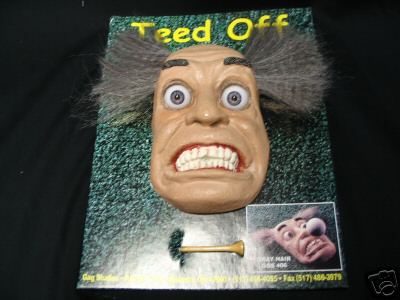 By no means could we describe this item better than the seller has:
"This item can be a very fun way of teeing off in golf. Its very strange and very distracting to look at. You can offer to set up a tee for one of your freinds and watch their reaction when they see this strange thing holding their tee in its mouth. Very realistic can fool any first time lookers. Over 7 inches in length. An item of envy. A unique gift for that golfer freind that has EVERYTHING………i know they wont have this. Looks like a stunned,old man that has synthetic grey hair."
Yeah.
Anyway, if you're interested in having a mask that looks like a guy who has just been smacked in the groin with a bag of marbles, check out yoggerst1234's auction for it. If you buy one, I'm pretty sure you'll have a freind for life.
–WKW
3 comments
your is spelled you're. That said, I think the eyes are hypnotic, and will be used to mesmerize golfers into a state beyond our normal stupor. Just the image makes me drool uncontrollably; can't imagine it in real life.
08/08/06 @ 14:53
Comment
from:
Jennifer Mario
[Member]
Yeah, and friend is spelled friend.
08/08/06 @ 20:04
Comment
from:
William K. Wolfrum
[Member]
Jennifer, I'm going to have to ask that you read the blog before commenting on it.

What are you doing slumming here, anyway? The Michelle Wie Group just canned their caddie. I smell a sequel.

--WKW
08/08/06 @ 20:54
Comment feed for this post
Comments are closed for this post.