Sophie Sandolo beats Karrie Webb! An update of our favorite Italian calendar girl golfer
Our friend Sophie Sandolo shocked the golfing world by leaving LPGA money leader Karrie Webb in the dust at the Women's British Open.
Ok, so maybe it helped that Webb missed the cut at 14-over, but the lovely Miss Sandolo did beat her, missing the cut herself after going 13-over for her two rounds. So once again, the most shocking thing about Sandolo remains her calendar.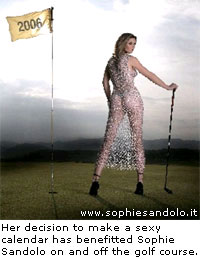 At 32nd on the Ladies European Tour money list thus far in 2006, Sandolo has some work to do to better her performance of 2005, when she finished at No. 15. She did, however, win something called the Princess Lalla Meriem Cup and finished sixth in ESPN's Hottest Female Athlete competition.
So, it's been an up and down year for Sandolo, who has stayed positive as always as fans pray for the arrival of her 2007 calendar.
As an aside, Sandolo was rumored to have been asked her opinion on Brandi Chastain's campaign to make Chris Baldwin the new LPGA commissioner.
Sandolo only gestured (see below) as Italians are prone to do, muttering something that sounded like "Tini pini itti bitti," which we can only assume means "Sounds like a fabulous idea to me," in Italian.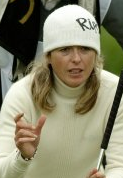 –WKW
4 comments
William,
Do you write the story about girl with no clothes to pretend you is macho man.

Be honest with yourself, you right many blogs about gays and how good gays are, so you should just come out and don't write blog about girl with no clothes to pretend you is straight.

There is nothing rong with gays and you give so many good blogs, but you should be honest with people too and admit it.
2006-08-05 @ 21:17
Fabrizio, brother, I couldn't agree more.

Wolfrum has always seemed like the kind of guy who likes to pretend he's someone he's not.

I friggin' hate that.

Peace!

El Cheapo
2006-08-06 @ 21:08
Cheap Bastard and Fabrizzio share an apartment with that drunken, bloggin' caddie dude. Now, as far as Sandolo's gesture regarding Baldwin, the translation is a little different that the one you attempted. It has to do with the average length of putts he misses.
2006-08-07 @ 12:05
Actually, I was under the impression that Sophie was questioning measurements.

The length of WKWs putt or his putter?
2006-08-07 @ 21:39
Comment feed for this post
Comments are closed for this post.