Bring back the 'stache! The Corey Pavin appreciation blog
You're Corey Pavin and you're one round from your first victory in a decade. You've single-handedly put the U.S. Bank Championship in Milwaukee in the news, much to the chagrin of the hate-filled mainstream media.
And we salute you for it.
Corey Pavin Appreciation Blog
– Winner of the 1995 U.S. Open.
– One-time owner of a mustache that made 1970s porn stars like Ron Jeremy exclaim: "Damn! That is one bad-ass mustache!"
– Has taken him years to regain the mystical powers the 'stache had bestowed on him after finally shaving it off.
– Has set the record for lowest nine-hole score at the U.S. Bank Championship, and his two-round score matched the lowest in tour history, joining Tiger Woods, Mark Calcavecchia and Tom Lehman.
– First victory came 22 years ago at the Houston Coca-Cola Open.
– Has given hope to generations of golfers who are thrilled to hit a drive 200 yards ("Oh yeah, well Corey Pavin only hits a driver about 250.")
– Has worked like a maniac throughout his career, lifting weights and doing whatever he can to add to his drives. He still averages out at about 260, roughly the same distance John Daly hits a sand wedge.
– A victory at the U.S. Bank Championship would be a nifty achievement at 46, and would give him 11 PGA Tour victories for his career.
– Is reportedly good friends with K.D. Lang.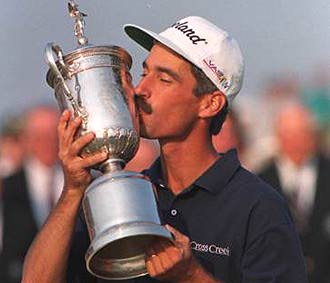 Even though we miss the mustache,
we salute you, Corey Pavin.
–WKW
No feedback yet
Comment feed for this post
Comments are closed for this post.