From Tiger Woods to Dale Earnhardt Jr., emotion affects us all differently
I readily admit I'm not the best at sharing my feelings. I do my best to be an open book and am willing to admit anything - like my current mancrush on Zinedine Zidane, for instance. After some brief self-analyzing, however, I've come to the conclusion that I'm not so much emotionally cold, but, in fact, exceedingly shallow.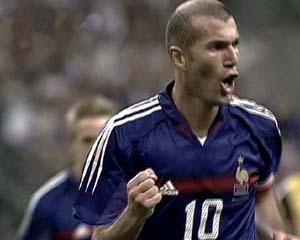 Caption: This was may be a poor picture of
Zidane to have picked after admitting having
a sporting mancrush on him.
Occasionally I can recognize actual emotions, though, and this weekend, there will be three different events which will showcase emotion in athletes in different and interesting ways.
An emotional weekend
First, the World Cup final, where France will be playing Italy under the most oppressive pressure as athlete's can feel, representing their country. The emotional display you'll see after the game will be about 10 times stronger than your average Super Bowl, from both loser and winner.
Secondly, in Chicago, we're seeing Tiger Woods and Phil Mickelson deal with their emotions as much as their games. Mickelson's plight doesn't begin to approach the depth of Tiger's, but from a man who has historical greatness in his sights, his inexplicable loss at the U.S. Open appeared to completely take the wind out of his sails for a period.
For Woods, losing his father and the process leading up to it seems to have affected him profoundly on a personal level, while the fact that his game is in shambles hasn't set off any alarms whatsoever as he works his way back to top form athletically and emotionally.
Oddly enough, also in Chicago will be NASCAR's USG Sheetrock 400 at the Chicagoland Speedway. You want to talk emotion? Death is an actual part of the NASCAR game, how's that for ratcheting it up a notch?
Perhaps this explains why Dale Earnhardt Jr., after losing his father instantly in a horrific crash, put on his helmet and was racing the next week. Of course, like Woods - who took a month off following his father's death - Junior crashed out early in his return.
Because emotion affects us all differently, but too much doesn't much help athletic performance. Or, at least, so I've been told.
–WKW
4 comments
Man-crush, huh? Is that what we call it these days? I can't believe more people don't have a man-crush on Chris Baldwin.
07/07/06 @ 15:47
Please Ron Mon. Careful if you would. I am sure there are people who would like to literally man-crush Baldwin.
07/07/06 @ 19:14
Comment
from: Kiel Christianson [Visitor]
I have it on a very good source that the reason Zidane head-butted that Italian player was that the guy said, "So I hear Wolfram has a man-crush on you! Are you going to marry him, Zidane?" Then Zidane snapped.
07/10/06 @ 14:01
Comment
from: ali [Visitor]
hi everyone, as i think zidan is the best player in the world i really like to watch his games as much as i can thanks guys bye
06/23/07 @ 06:42
Comment feed for this post
Comments are closed for this post.