Golfer Supremacy Rankings: The Pat Hurst edition
At the Golfer Supremacy Rankings we strive for fairness. We also strive to bake the best damned chocolate-chip cookie you'll ever taste and hope you rush out to buy a box or two of the new Golfer Supremacy Rankings Chocolate Chip Delights when they come to a supermarket near you this Fall.
But back to fairness. The U.S. Women's Open was a sensational battle between two women. Yet one of these women - Annika Sorenstam - is getting the lion's share of the press, while Michelle Wie gets even more attention for coming close to winning.
And that leaves Pat Hurst out in the cold. Well, here at the Golfer Supremacy Rankings, we right wrongs. Even if we have to make stuff up.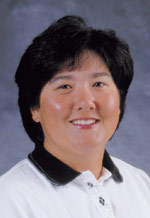 Golfer Supremacy Rankings: Pat Hurst Edition
1. Pat Hurst

Comments: The Boston Herald is just one of the publications trying to dance around the fact that Hurst is fat. Some went so far as to question whether Hurst could go the full 36 on Sunday. Survey's have shown, however, that raising two kids is training enough for a long day of golf.
2. Pat Hurst

Comments: Following the birth of her second child in 2002, Hurst's game has slowly improved to the point where she entered the U.S. Women's Open at No. 18 on the money list and will spring in to the Top-10 regardless of her finish in the playoff.
With a victory, Hurst can join Joanne Carner as the only players to win the U.S. Junior Girls, U.S. Women's Amateur and U.S. Women's Open. It would be the second major victory and fourth LPGA victory of Hurst's career. Hurst was also the LPGA's rookie of the year in 1995.
3. Pat Hurst

Comments: Hurst, 37, can bench-press 350 and field dress an alpaca in less than 20 minutes. As a child, Hurst was taunted by kids calling her "Patty Hearst." Hurst used this resentment to train really hard and become a great golfer. A win at the U.S. Women's Open will further smite her former tormentors.
Random Factoid I: Pat Hurst has a standing offer to be the spokesperson for Golfer Supremacy Rankings Chocolate Chip Delights.
Random Factoid II: The Backstreet Boys' hit "I want it that way" is about Pat Hurst.
–WKW
9 comments
Good for you! I thoroughly enjoyed Sunday's golf, watching Anika and Pat battle it out, the valiant effort of Michell and Se Ri to keep up and the outstanding par play of Stacey Pammanasudh! No matter what the outcome of today's playoff, Ms Hurst showed herself to be a couragous and consistent golfer on Sunday. I must say that I do not hold the 3rd place finish against Ms Wie anymore than I do for Ms Pak and Ms Prammanasudh. The best 2 players Sunday are in the playoffs and the others get a "good try and better luck next year" Womens golf has gotten very exciting and I am looking forward to watching much more. Mike
07/03/06 @ 09:53
Glad that you mentioned Pat Hurst. She's 15th on the ADT Official Money List but most people don't even know her name!

But seriously, WKW, Hurst can't really bench press 350...300 maybe!
;-)

I hear that Sorenstam does 1000 situps...and pushups with 50 pound weights on her back.
07/03/06 @ 10:40
She may be a great golfer and a great mother but I for one do not find it entertaining to watch a 500 lb (or whatever) athlete on a Sunday afternoon. She should try and lose some weight like Christina Kim

I'd rather watch Michelle and her swing any time.

Johnny Miller was trying hard not to say it but I'll say it for him. Pat Hurst has a clumsy hacking swing that's not pleasant to watch and she should lose some weight.

J Lee


07/03/06 @ 13:58
I am a Michelle fan not a golf fan and I was disappointed to see only 2 minutes of her on Saturday since her round had ended when ESPN came on the air.

I'm surprised at her early tee time given the ratings she generates.Are these tee times randomly allocated? The USGA folks seem to be able to manipulate the pairing of the 2005 Open champ with the 2005 Amateur champ or whatever so why not give Michelle a later tee time and better exposure to attract casual fans like me?

Instead Morgan gets a later tee time . Who wants to watch her?

The LPGA needs all the publicty it can get it seems to me

Meredith
07/03/06 @ 14:50
Sorry the above was meant for another site and I typed it here by mistake

Meredith
07/03/06 @ 15:49
Comment
from: Juan Hernandez, MD [Visitor]
In my medical opinion, Pat Hurst is the Champion. Her oponent went back to wherever she was staying to relax.
Pat left the course to 1st feed her children. Then went to her hotel to get them bathed and ready for bed before she could relax herself. No matter how she played the next day, to say the playing field was even for both of these golfers is false. They have different responsibilities to attend in between rounds. For Pat to tie in regulation, makes her a true Champion in my book !!!!!!!
- doc
07/04/06 @ 11:01
She's not fun to watch though Doc. She's overweight and does not look good at all espy when she swings at the ball and kinda waddles when she walks. She really should try and lose some weight. Having 2 kids is not a good excuse. Lots of people have children and still look good

I prefer watching Michelle anytime

Maria


07/04/06 @ 16:05
Comment
from: leo Sanchez [Visitor]
Here are 2 Athletes that played 36 holes on Sunday and come back to play 18 holes on Monday morning. All you making comments about Pat Hurst weight do not understand the enjoyment of watching 2 athlete ladies playing for a TROPHY that a regular person do not understand. Michelle is going to be an awesome player but right now ;she has not showed anything to say that she belongs with the best women PLAYERS...

leo
07/04/06 @ 23:32
Sorry Leo as hard as I try I cannot picture Pat as an "athlete"

She's just an overweight (OK fat!) lady clumsily hacking a ball and she happens to be very skillful at doing it.

More power to her butI watch golf to be entertained and she does not entertain me

John
07/05/06 @ 13:35
Comment feed for this post
Comments are closed for this post.