The Golfer Supremacy Rankings: Where fat is always a fan favorite
Here at the Golfer Supremacy Rankings, we'd like to celebrate the life of Orson Welles, who was born 91 years ago this month.
Welles was a dynamic actor, writer and director who turned wine pitch man, and exceedingly fat. For this, he is to be commended. Same with Marlon Brando, now that we think about it. Dude was like a truck at the end.
Golfer Supremacy Rankings
1. Tim Herron

Comments: Speaking for the vast array of fat white guys wiling away the hours here at the TravelGolf.com Super-Fantastic Golf Blog Squad of Tremendousness (or whatever the hell it is we call ourselves), let me tell you, it's like all-you-can-eat-cake day when one of our brothers wins a tournament and banks a cool million.
How can you not like Herron? He's fat, and fat guys are great. Remember this about John Daly – he was loved because he was fat and excelled, not because of his silly antics.
Daly, John Kruk, Charles Barkley, that huge cat from Lost, Cheap Bastard, and now Tim Herron: We are a nation that loves to see fat guys succeed. It just gives us all a nice chuckle to see one of our own beat the better built.
2. Lorena Ochoa

Comments: Her victory in the Sybase Classic caused a literal shockwave of apathy that traveled all the way down to New Orleans. Which is one working theory as to how Ray Nagin was re-elected as Mayor.
3. Barry Bonds

Comments: Bonds caught Babe Ruth (another beloved fat guy) over the weekend and now stands only behind Hank Aaron with 714 career long balls, which is a great accomplishment, regardless of sport. And no, I didn't miss the memo that says "Everything Bonds does now is crap because we're really sure he's doped up."
Don't get me wrong – I agree that the dude underwent some serious type of intense, unnatural body-morphing experience. But enough with the outrage, we aren't fooling anyone. We knew Bonds was juiced, and McGwire, and Sosa, etc. Just like we knew the NFL was juiced. So we need to get off Bonds' back for doing it too well.
Because in the end, people, we are not judging a man who is breaking records, we are looking deep into our hearts and judging ourselves.
(Note to the Editor: Please, please save the previous paragraph for entry into the 2007 Webby Awards category "Best Random and Dramatic Baseball Interlude in a Golf Blog" I want to be an award winner like Marc Cuban. – Hugs, Bill).
4. Michael Campbell

Comments: The 2005 U.S. Open champion did nothing to dim the perception than Kiwis will say anything to anyone at anytime regarding everything, when he spoke out on the subject of Michelle Wie.
"She needs to prove to herself – more so than to anybody else – that she can win on the ladies' tour before she can come out and actually make a cut on the U.S. Tour or the European Tour," said Campbell.
While Campbell's comments about Wie raised some eyebrows, it was another statement he made that caused real controversy.
"But in this game, it's not all about making money. It's all about having fun rather than making money all the time," Campbell foolishly uttered in front of dozens of amped-up corporate types.
In a completely unverifiable report, Wal-Mart has decided to cut all ties with Campbell, as well as issue an "enemy of capitalism" jihad against the New Zealander, unless he offers money a full apology.
5. Laura Norman

Comments: A recent personal add from the Sydney Morning Tribune:
"Soon-to-be-divorced, swf, worth around $150 million and vice president of several big businesses. Enjoy golf, long walks and people who don't buy massive yachts to make up for other shortcomings. Looking for a guy who is a strong finisher who doesn't choke when he gets the lead. If you know what I mean."
Random Factoid: Paul McCartney's soon-to-be ex-wife Heather Mills will cash in her chips to the tune of perhaps $500 million. Nonetheless, Laura Norman gets a much higher rank for personality, as Mills sort of comes off a touch skanky.
Random Factoid II: For those who can't get enough after Herron's big win, check out My Fat Spouse with their new "Rate Fat Pictures" Component.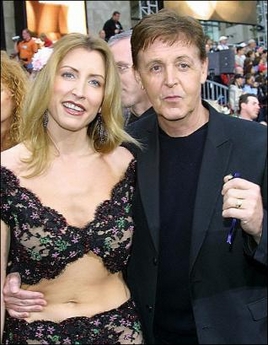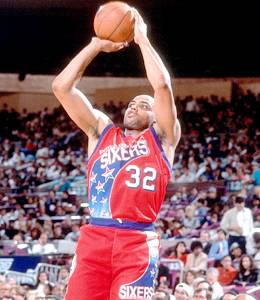 What do Heather Mills and Charles Barkley have in common?
Punchline: They were both fantastic rebounders.
–WKW
1 comment
Comment
from: caddiemaster greg [Visitor]
Get it straight: Bonds TIED Babe Ruth at 714. When he hits his next HR, he will trail only Hank (Henry) Aaron at 755. Your mistake is as if you'd said that Tiger will pass Walter Hagen when he wins his next major. IT'S A TIE. If you're going to branch out to other sports, get your facts straight!
05/22/06 @ 19:58
Comment feed for this post
Comments are closed for this post.