Shroud of Turin golf towel: bring idol worship to your golf bag
When Aaron Baddeley let it be known that he dedicated his final putt to Jesus during his Verizon Heritage victory it was a touching moment.
Nonetheless, members of other major religions felt terribly left out. Even members of smaller religions like snake-handlers and Scientologists grumbled about the horrible unfairness of it all, with Scientologists going as far as threatening to make a sequel to Battlefield Earth if such behavior continued.
This is where Baddeley deserves credit, however. He is what he is and believes what he believes. And if you are a true believer, you should shout your feelings from the mountaintops … or at least think them to yourself on the 72nd hole of a pro golf tournament.
With this in mind, it should behoove all Christian golfers to purchase something that will help their golf game and comfort their soul.
Yes, I speak of the Shroud of Turin golf towel.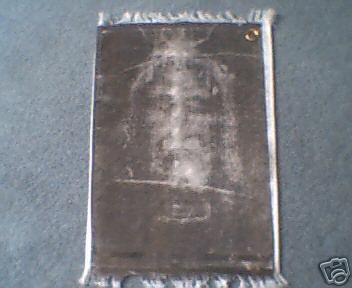 Available at eBay for the sacrilegiously low price of $8 (plus $5 shipping), the Shoud of Turin golf towel handily comes with a grommet, which, let's face it, was all the original one was missing.
While it may seem like buying a Shroud of Turin golf towel is a bit false idol-ish and will have you on the road to stacking golden calves on your front lawn like crab pots, there should be no reason to fear, as each towel has been blessed with holy water.
So, if you feel like rolling the dice on a potentially deal-breaking mortal sin, than the Shroud of Turin golf towel is for you. At very least, it should quickly become the single most studied artifact in the history of your golf bag.
–WKW
5 comments
Looking forward to the Shroud of Turin lampshade. (I'm sure no one minds it was carbon-dated circa 14th century)...
05/05/06 @ 20:22
I am afrid that your sublety may be lost in the pig's den, so to speak. Nor do I agree with with your caption. Gloves are off, lol.
05/06/06 @ 07:39
Comment
from:
Spencer Hux
[Member]
YOU, my friend, are the madman. And I love the snake-handler link.
05/06/06 @ 09:30
Comment
from:
William K. Wolfrum
[Member]
As you obviously know, Spence:

Moe Szyslak: He was born a snake-handler, he'll die a snake-handler.

--WKW
05/06/06 @ 10:04
Comment
from: Vic Troiano [Visitor]
Sir;

Can you tell me if the turbo power Ti7 taylor made look alike irons 3-lw comes in left handed .
Have a customer looking for does irons, also please tell me the offset of the irons
hank you Vic

06/13/10 @ 15:40
Comment feed for this post
Comments are closed for this post.