Australians: drunk, beautiful and dominant in Houston
As an American, my knowledge of Australia is rudimentary and based mainly on things I've seen on TV. Australian guys ("mates") are good with knives, ala Crocodile Dundee.
Australian women are fabulously hot like Elle Macpherson and Nicole Kidman (Kidman losing points, however, for being married to Tom Cruise, who is appearing creepier and creepier).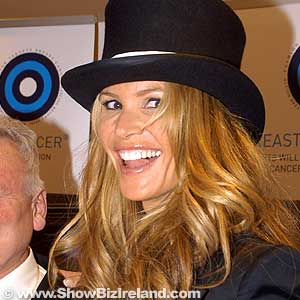 Elle Macpherson is absolute proof that
Australians are all fantastically beautiful
I've also heard that Australia is a great place for a young American to go because, by and large, most Australian men are perpetually drunk, so the women are usually lonely. Of course, this is but a nasty stereotype, and I profusely apologize to any Australian men coherent enough to be reading this.
As 2006 rolls along, it's quite apparent that America is a great place for a young Australian to go. Thus far this year, Aussies Stuart Appleby, Aaron Baddeley, Rod Pampling and Geoff Ogilvy have registered victories on the PGA Tour, with countryman Adam Scott always a threat.
So who will be the next Greg Norman?
"We don't have that golden child," Appleby said. "It's tricky at the moment because they're all waiting for someone to step out of the darkness."
Appleby is actually someone who could really amass a quality career by the time he hangs up his clubs, as at just 34 he already has 14 years experience and seven victories under his belt. Appleby is leading the Houston Open after shooting an opening-round 66, and is looking to repeat at the event he won in 1999.
Australians have had a great run at the Houston Open, and don't bet against another Aussie banking a win there this weekend. Because that's something else we Americans should know about those Down Under – they dominate in Houston.
–WKW
No feedback yet
Comment feed for this post
Comments are closed for this post.