Golf-ball finding dog has them dying of cuteness in South Wales
So often here everything we write gets someone angry. Case in point: a recent column I wrote for WorldGolf.com Magazine.
The basic premise of the column was that in the last few weeks, golfers from David Toms to Tiger Woods to Aaron Baddeley have been saying some unscripted and off-the-cuff things – and that I think that's great and hope they continue.
That somehow led to this comment from "Dick" (if that is his real name):
"Why don't you kiss Tiger's ring and get on with it, according to you he can do no wrong, everyone else sucks, well, I think you suck, what makes you so great, if you didn't write for this paper you wouldn't have a job, get a life."
As you see, you can't please all the people all the time. We can try, however, which is why I was drawn to the story of Deuce, a mongrel that has been awarded a lifetime membership to Pontnewydd Golf Club in South Wales because of his preternatural ability at finding lost golf balls.
"I've been playing with the same ball for two years, I can't get rid of it," said club secretary and Deuce caretaker, Carl Phillips.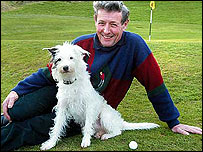 Look at that white, adorable
thing! And Deuce is cute, too!
As someone who has three dogs of his own, this story impresses me. Mostly because if I left my three dogs on a golf course the carnage would be spectacular. No golfers would be injured, mind you, but they could have Pebble Beach looking like a quarry in no time.
Though, to be fair, Max, one of my two Boston Terriers (the other is an Australian Shepherd) has a hobby of his own. Every day he sucks on a stuffed animal for hours on end. Ok, it's not much of a hobby but it is something roughly on par with David Blaine's antics, and my wife and I are exceedingly proud of him.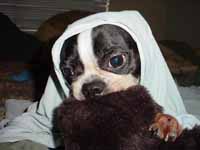 Max: Showing off his mad skillz.
Because dogs are just fantastic. They add years to your life, bring happiness on a daily basis, and if you're really lucky, they'll hunt down golf balls for you.
So let's hear it for Deuce, the newest member of Pontnewydd Golf Club and a subject that no one can get angry about.
Unless maybe you're a cat person.
–WKW
4 comments
Deuce is better at finding lost golf balls than those Peak Vision sunglasses!
04/20/06 @ 09:02
Comment
from:
William K. Wolfrum
[Member]
Max has deeply held convictions and believes that dogs that wander around with their ears and heads uncovered are godless heathens.

He's cool with eating pork, however.

--WKW
04/20/06 @ 09:59
Those dogs are pretty good, but I don't think they can hold a candle next to Tyson -- the Skateboarding Bulldog. Check out more of his videos at:

http://www.skateboardingbulldog.com

04/20/06 @ 21:28
Comment feed for this post
Comments are closed for this post.