'Armed and inebriated' plus 'high-ranking Punjab police at golf course' equals frivolity
We work long hours here, trying to make the world a better place through golf. Sometimes it works, sometimes it doesn't, but in the end we feel good that we show people that even though cultures can be different, the game of golf can bring us all together.
Of course, it can comically tear us all apart, as well. From the Tribune in Chandigarh, India:
"Five unidentified persons, claiming to be the top echelon of the Punjab police, accompanied by AK 47 wielding gunmen, went to the Golf Range, run by the Chandigarh Golf Association (CGA), and after having a lot of alcohol and food refused to pay the bill."

What happened when these men were confronted?
"When confronted, the men, claiming to be police officers, beat up the catering staff, including the bar manager and captain. "
But wait. There's more:
"They tried to hit some waiters and CGA staff with bricks and stones and damaged CGA property, while all those present there watched helplessly."
Surely the real police must have come and helped?
"Interestingly, while those men continued to hit and abuse the CGA catering staff, the personnel of the Chandigarh police stood as mute witnesses."
And how did it all end?
"The CGA staff finally let them go after they realized that those men were armed and inebriated."
So remember people, all the hard work we do to promote golf can be taken away in a heartbeat by armed and inebriated men, posing as high-ranking Punjab police officials.
We must all be vigilant, unlike the Chandigarh police, to keep our game pure and wholesome. If not, we open ourselves up to abuse normally earmarked for Chandigarh Golf Association workers.
"The men kept hurling stones at us and abusing us in front of the policemen, who just stood there and watched while the eight men went off in their cars," a hotel employee alleged.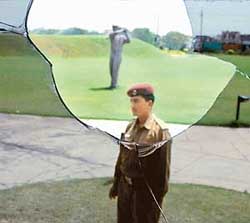 The party really isn't going
until the armed and inebriated
Punjab police officials show up.
–WKW
3 comments
Talk about a clash of cultures! Can you imagine a bunch of armed and drunk golfers on a muni? Haven't I seen that before? Armed with golf clubs and alcohol!
04/12/06 @ 08:54
Comment feed for this post
Comments are closed for this post.