Upcoming Masters victory has Tiger Woods on top of Golfer Supremacy Rankings
One day, when sanity prevails, the Golfer Supremacy Rankings will be the only rankings with any real importance.
Until then, we here at the GSR's keep plugging away, ignoring criticism and bad reviews. Just like David Lee Roth.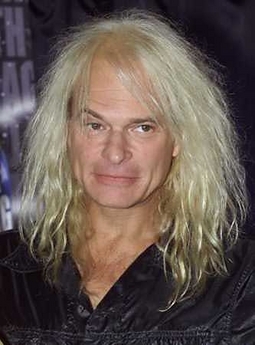 If David Lee Roth won't quit
neither will the GSR's.
Golfer Supremacy Rankings
1. Tiger Woods:

Comments: For his upcoming, five-stroke victory at the Masters, Woods is on top of the GSR's. Enough with the 60 Minutes interviews, though. Tiger's interesting because he wins, but overall, no one who practices golf eight hours a day is all that interesting. Wait. He's interesting because he has a ridiculously hot wife, as well.
2. Karrie Webb:

Comments: We knew a great champion would make a run at the LPGA's first major on Sunday, we just figured it would be Annika. Apparently, no one told Webb that she was supposed to lie down and let Michelle Wie saunter home. Seven majors and 31 career victories at the age of 31? Sounds like youth is being served, after all. And pitching in on 18? Fantastic. Welcome back, Karrie. And bonus points to Shanks for calling this two months back.
3. Phil Mickelson:

Comment: While writing this blurb, Mickelson has run off five more birdies. Was it just me, or did every time you check on Lefty's progress, you saw that he was 7-under for the day? Every single day. An amazing performance by Phil, that has Sean Cochran totally flipping out and screaming like a crazy man about flexibility.
4. Morris Hatalsky:

Comment: Hatalsky won the Champions Tour Puerta Vallarta Classic. Here's how.
5. Michelle Wie:

Comments: A tough call on whether she did the right thing on 18 at the Kraft, but it's hard to judge too harshly. A great tournament for the teen, and better yet, because she didn't win, golf writers around the globe get more time to torment Wie's fans.
Random Factoid: When he won the FBR in Phoenix, he was supposed to take over the golfing world and change the game altogether. Since then, J.B. Holmes has a best result of 38th in his past five tournaments, missing two cuts.
Comment of the Week: Reader Ken on the blog Wie Warriors closer to being unbearable, while Gulbis, Sorenstam start slow at Kraft:
"(Wolfrum's) just stating a fact. When Michelle wins there's going to be a mushroom cloud of Wie-jubilation. Statues of Frank DeFord will be toppled.

Things will get ugly when the Wie-warriors plant a golf club on (Chris) Baldwin's head, like the U.S. Marines on Mt. Suribachi. (And I'm kinda looking forward to it … )"
–WKW
No feedback yet
Comment feed for this post
Comments are closed for this post.