Death of Paul Dana has golfers and drivers on the same page
On the outside, golf and auto racing couldn't be much different. Sure, it can be said both contain elements of chess, but one requires you to be blasting over terra firma at reckless speeds while plotting your moves.
The sports attract a different type of person, as well. Or perhaps, their respective sports eventually help define them into being different types of people.
Golfers grow up in clubhouses and walking over grass, often in a lonely pursuit. Race-car drivers grow up in garages, and work with others as a team the whole way through. It is no wonder golfers can be considered aloof, while drivers are generally thought of as more approachable.
Regardless, golfers are lucky they don't have to go through what drivers went through last week. Auto racing has to endure the losses of up-and-coming stars like Paul Dana. And then force themselves to make the show go on.
Professional golf obviously suffers losses, as one cannot think of dying young and golf without thinking of Payne Stewart. But Stewart's death was of the fluke, real-life variety. Dana died practicing his sport
In the end, the differences are small, as many golf fans moonlight as racing fans and vice-versa. Which is why golfers, race-car drivers, and all athletes and sports fans feel a pang of pain for seeing the loss of a young man like Dana.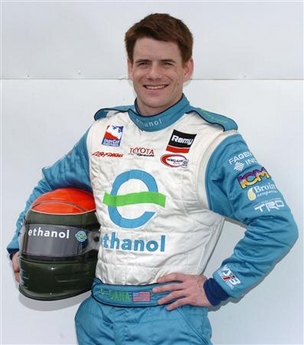 Paul Dana
1975-2006
–WKW
1 comment
Thanks.

Nothing else appropriate to say...Just thanks.

Some things are bigger than sports.
03/30/06 @ 21:13
Comment feed for this post
Comments are closed for this post.