Whistler is more than a ski resort north of Vancouver, Canada
Click here to listen.
With summer on the horizon, skiing is about to take a backseat to golf once again in Whistler, Canada. The host of the 2010 Winter Olympic games, there's plenty of summer action in this world famous ski town as well, including golf resorts that sit on this natural and mountainous terrain in the Pacific Northwest.
Chris Baldwin says Whistler is one of his favorite golf destinations in the world, and he joins host Brandon Tucker on this edition of WorldGolf.com Sweet Spots.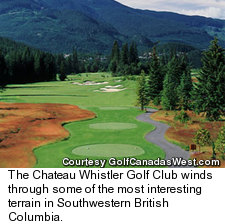 No feedback yet
Comment feed for this post
Comments are closed for this post.