Best of 2013: My year in golf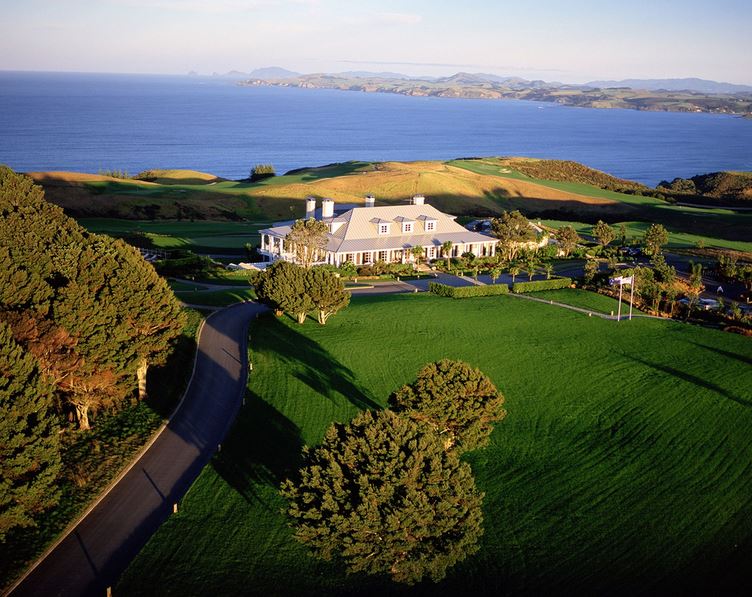 Best golf course played:
This one is an obvious no-brainer as I finally got to play Cypress Point Club in December. It was a dream-come-true on a cold and sunny day and an experience I will always treasure!
Best golf resort visited:
I had heard nothing but rave reviews about Kauri Cliffs so I couldn't wait to finally visit the resort in late November. I was blown away by the whole experience: the golf course, the quality of service (as good as I have ever seen), the lodge (see image above) and the scenery. The porch of the lodge has unreal 180 degree views of the golf course and coast and has to be among the best spots in all of golf. On a clear and sunny day, Kauri Cliffs is about as good as it gets!
Honorable mention: Pronghorn Resort, Westin Turnberry, Gleneagles and Cape Kidnappers.
Favorite beach resort visited:
Sandals Regency La Toc on Saint Lucia – nobody does luxury all-inclusive better than Sandals! Basically everything is included when you visit this elegant Caribbean hideaway, including unlimited green fees (except fees for the caddies and golf carts) at the on-site nine-hole course! Guests also enjoy complimentary transportation to the two other Sandals properties on the island where they can also indulge making use of the "dine around" concept!
Honorable mention: Omni Amelia Island Plantation in northeast Florida.
Best golf lesson:
In April I went to the Jim McLean Golf School at Trump National Doral. "Certified Instructor" Johnny Bloomfield analyzed my swing and told me which improvements I needed to make. I'd love to go back there in 2014 for a tune-up, especially that the whole facility recently reopened after getting a facelift.
Favorite event played in:
My friend Tom Doak and his team at Renaissance Golf Design host the legendary Renaissance Cup every year. They always draw a great and knowledgeable crowd of a golf industry's "who's who" and I'm honored and delighted whenever I get an invite. In January the event was held at the new Streamsong Resort in Florida (read my review) and I flew back and forth across the Atlantic just to attend and be part of it!
Best shot hit:
At the Renaissance Cup at Streamsong in January, I was part of a shoot-out at the 90+ yard bye-hole (a few two-man teams hit tee shots, closest to the pin got into the tournament). I hit a flip wedge to about a foot, almost holing out! On a side note: my partner and I got beat like a drum in the first-round, nine-hole match, losing 5 & 4.
Most impressive player watched:
I was fortunate to play Shelter Harbor Golf Club in Rhode Island in September, an exciting Hurdzan-Fry design that was in impeccable condition. Playing as a single (walking with a caddie) I ran into two members who were so kind to let me join them for the last three holes.
One of them was Dr. Richard Bruun who had lost one of his forearms due to a tragic accident. So Dr. Bruun now plays only using one arm and manages to hit quality shot after quality shot. Dr. Bruun is certainly an inspiration for me (on and off the golf course) and by far the most impressive player I watched all year.
Best par-3 course played:
I finally got to play Bandon Preserve when I visited Bandon Dunes Resort in May. The 13-hole, par-3 course laid out by Bill Coore and Ben Crenshaw offers stunning ocean views and interesting green complexes. Playing Bandon Reserve is just a joy and about as much fun as it gets – my friend used a putter to find the green on the short home hole!
Best club visited where I'd like to be a member (other than Cypress Point):
Bighorn Golf Club, an exclusive private residential community in the Palm Springs area with two excellent 18-hole layouts. I got to play the Canyons Course where Tom Fazio (one of my favorite contemporary designers) laid out a lush green oasis in the desert that is always kept in immaculate shape. Bighorn's Mountains Course was designed by Arthur Hills. The club has two outstanding driving ranges equipped with the latest technical measuring devices, Top 100 instructor Tom Stickney is on site to help players improve their game. Members have access to all amenities one can dream of, including seven restaurants, a state-of-the-art, 14,000-sq.-ft. spa and fitness facility and limousine service. Best of all, the club has three jets available for members to fly to and from their other homes throughout the U.S. I can't think of a better way to spend $1.25 million (for one of the least expensive homesites, $250,000 initiation fee for a single, $350,000 for a member & spouse)!
Best "pure golf" resort visited:
While I love Pebble Beach, to me Bandon Dunes will always be the best "pure golf" resort in the world by far. Pebble Beach Golf Links is arguably the best public course on the planet. However, the variety at Bandon Dunes (with four 18-hole and one 13-hole par-3 layout) is unsurpassed. "Golf as it was meant to be" is the resort's motto, and owner Mike Keiser truly delivered. You walk (ideally with a caddie), play at least 36 a day, a round takes four hours at the most (three hours is not unusual) and I don't have more fun on a golf course anywhere else.
Best golf day:
While it's almost impossible to beat a day at Cypress Point Club and a day where I played Old MacDonald, Pacific Dunes and Bandon Preserve all in one day, I'd have to go with my day at Monterey Peninsula Country Club. The Shore Course, which was redesigned by the late Mike Strantz and is part of the AT & National Pro-Am rotation, became an instant favorite. The firm and fast playing course boasts a number of spectacular holes along the water with mind blowing ocean views. The Dunes Course has more inland holes through the trees while the oceanfront holes give the layout its character. Tom Fazio is about to start making improvements which should make The Dunes Course better than ever before.
Best golf experience:
During my trip to Queenstown, New Zealand I got to do the Extreme Golf Tee experience provided by Over the Top. This included a helicopter flight to the top of the mountain, where I got to hit a few drives towards the lake using eco balls ensuring the breathtaking environment remains pristine. I soaked up the views over Lake Wakatipu and the adjacent mountains and hit some of my longest drives ever. On the way back to the airport we flew over the lake and through some valley where we got to see the magnificent scenery of the backcountry. I had never flown in a helicopter before and the experience was absolutely priceless and I highly recommend it to every golfer who visits Queenstown.
No feedback yet
Comment feed for this post
Leave a comment